Activist-Musician-Filmmaker Goes on Tour With Americana Variety Show to Foment Pro-Renewable Energy Grassroots Activism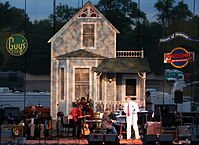 MAR 7, 2015 – Banjo-player Josh Fox, best known for his award-winning "Gasland" and "Gasland II" films highlighting the environmental risks associated with hydraulic fracturing for natural gas but better known as "Fracking", has created and launched "A Solar Home Companion", a musical and storytelling tour to educate and organize environmental activists across the country, examine the impacts of fossil fuel, and to help create a vision forward for renewable energy "like no other event on the planet". Josh has already launched the tour and held an event in his home state of New York in Genessee where he spoke, played music, and even had special guests such as former Fordham law professor Zephyr Teachout, energy expert Tim Woodcock and activist-musician Dustin Hamman from the band Run On Sentence.
The tour is a "light parody" of the Prairie Home Companion, because he likes the show, and features music, stories, film sequences, and Americana. Josh says it has a "twist" though and wants the show to educate the audience on how to "go renewable" with the main goal to organize and mobilize citizens into going out into the communities and creating a 100% renewable energy future. Josh, Zephyr, and A Solar Home Companion offer solutions to individuals, communities and businesses on how to embrace renewable energy and even save money.

They mention several clean energy providers such as Community Energy, Ethical Electric, and Pear Energy that develop their energy from renewable sources such as wind and solar. A Solar Home Companion also informs citizens of companies that install solar panels on your roof with no money down and other ways you can transform your house off of fossil fuels and onto solar power, and even lower your electric bill and get tax credits in the process. Josh, and JTMP, urge citizens to put pressure on our local, state and Federal elected officials to adopt renewable energy and urge them to pass legislation that moves us towards a renewable energy future.
Lastly, A Solar Home Companion directs the audience to go to their website Solutions Grassroots (link is below) where there is a "kit" to help a citizen start their activism, and how they can organize a "Local Community Team" and link up with environmental activists near you where you can help start the move towards a 100% renewable energy future today! Watch some great videos from WNY Peace Center of the Genessee event of Josh giving a great motivational speech, playing the banjo and even playing a song with Dustin Hamman. Watch Zephyr Teachout speak to the crowd there also, and let's stop Fracking and fossil fuels!  (photo credit: Johnathunder/CC)
[youtube width="420″ height="230″]http://youtu.be/-8eXpQ9cPSo[/youtube]
[youtube width="420″ height="230″]http://youtu.be/Zxxr9_g-F0Y[/youtube]
Solutions Grassroots Website:
http://solutionsgrassroots.nationbuilder.com/take_action