David Grohl & Friends Disrupt Westboro Baptist Church Protest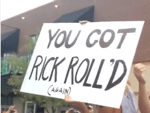 AUG 23, 2015 – The Foo Fighters "Rickrolled" the Westboro Baptist Church protesters that were holding a rally outside their Kansas City concert. David Grohl and the band pulled up in a pickup truck blasting music and holding signs, and Grohl made a great speech about equality and tolerance. "Rickrolling" for those of you who had never heard of it before like me is an Internet meme involving Rick Astley's song "Never Gonna Give You Up" where someone gets a link supposedly for another song or whatever, but when they click on the link they actually are directed to Rick's music video. You have just been "Rickroll'd", or "Rickrolled". The "again" is because the Foo Fighters have disrupted their protests before.
Check out the story with Pics and Tweets on Billboard.com at the link below, and watch a YouTube video from CBD News Today of the "Rickrolling" below that.
http://www.billboard.com/articles/news/6671182/foo-fighters-westboro-baptist-church-rickrolling?mobile_redirection=false
[youtube width="420″ height="237″]https://youtu.be/xNDBa-c0uI0[/youtube]