Musical-Activist Creates Event to Celebrate Sustainability
AUG 19, 2015 – So moved by global climate change, environmental activist and musician Pablo Blaqk blended the two together and formed "Green City Music Festival". The Green City Music Festival "celebrates sustainability" and on their Facebook Page they say it is a "green technology-themed event reflects the hip/environmentally-conscious West Town community by blending cutting edge, environmentally-conscious bands with all green vendors and activities". Bands that have played at the past events include Shovels & Rope (my favorite!), Guided By Voices, Yo La Tengo, The Wailers, and Dinosaur Jr., The Delta Saints, and many, many other bands. See the full lineup of bands at the last event HERE.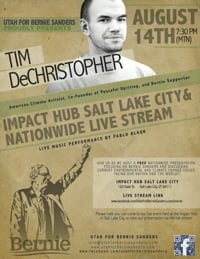 Green City Music Festival has a south stage that is powered by stationary bikes with electrical generators, so it is up to the audience to keep the band powered up and rocking'! Watch a highlight video below of a recent Green City Music Festival posted on Vimeo.
In addition to his environmental work, Pablo recently took part in Utah For Bernie Sanders event with environmentalist and founder of Peaceful Uprising, Tim DeChristopher. Click on the flyer to the right to find out more information on the event and the organization.
Green City Music Festival Website:
http://www.greenmusicfestchicago.com