Could the Georgia indictments spell the end for Trump? This has been going on for a very long time, now it's at a fever pitch, even though Fanni Willis is on tap to "tell the public "on September 1st what is going on with the Trump investigation. But right now, it's all about indictments, and a grand jury hearing evidence, and even the dreaded and overused RICO potential.
Let's get this straight though. Willis has been promising these indictments for years and hasn't so far delivered them. She's hemmed and hawed about imminent proceedings last year on her decision, then it was I love it in the summer of this year, and recently on record that by September 1st she would let people know what was up. This doesn't bode well for the investigation. If you are planning on disclosure by date certain, then what you are saying is that you may have to tell the people that you don't in fact have enough to go on.
And while the mainstream media is all fired up, they may in fact be fired up for nothing or a no bill, which would then end up having Willis tell the public on September 1st that the grand jury didn't find enough credible information or intent on the part of Trump to indict him. This happened in Ferguson, and what happened after it came to be known as the Ferguson riots where the entire city was literally burned to the ground while the cops watched from their police headquarters bunker.
This was all because the grand jury didn't find enough evidence on the officers involved to indict them for murder.
I'm not saying that Willis won't be able to bring a case, but it may be a case that no one is expecting, least of all the mainstream Trump funded media. She may only get a few paltry charges out of it that won't amount to more than a small hill of beans, leaving her only recourse to tell the public on September 1st why she couldn't get what the public has been salivating for.
Again, no one really knows. However, right now the public is being spoon fed this massive case that could in fact spell doom for Trump because they are state charges, and he can't pardon himself for them if he were to be elected again.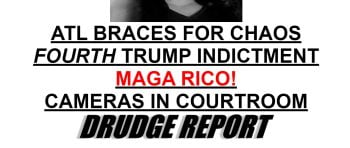 One thing is for sure. Georgia has claimed no special favors for Trump if he's indicted there. They will mugshot him, print him, and supposedly perp walk him in cuffs.
Story below:

A legal tool normally reserved for the Mafia and organized crime could make former President Trump's next potential indictment his most damaging.
Why it matters: Georgia's expansive racketeering law — known as RICO — gives prosecutors a powerful tool to pursue charges in their investigation into Trump's attempt to overturn the 2020 election.
What's happening: Fulton County District Attorney Fani Willis, who has kept her plans quiet, says a charging decision could come by Sept. 1.
State of play: Willis will likely invoke RICO when she presents her case to the grand jury, legal experts say.
The law — inspired by federal statutes with the same name — allows prosecutors to string together crimes committed by different people toward one common goal.
The DA's investigation has spanned two years and has involved testimony from dozens of witnesses.
The big picture: If charges are brought, they'd represent the fourth indictment against the 2024 GOP frontrunner since April.
Zoom in: Experts point to several reasons why the potential Georgia charges could be more likely than the other cases to be damaging for Trump:
1. The complexity of RICO cases makes it difficult for lawyers to implement a coherent trial strategy, explained Anthony Michael Kreis, a law professor at Georgia State University.
The stiff penalties associated with RICO charges are also a major incentive for co-defendants to seek deals in return for new evidence.
"The defendants who are left standing without plea deals and grants of immunity may especially feel squeezed as the process goes on," Kreis said.
Some Trump allies and supporters have already been informed by the DA's office that they are targets of the investigation, including Rudy Giuliani and the GOP electors who falsely "certified" Trump as Georgia's 2020 victor.
2. Since Trump would face state charges in Georgia, the sitting president won't have the ability to pardon him, Kreis said.
In Georgia, the power to pardon is vested under the state constitution to a Board of Pardons and Paroles, which requires that a sentence be completed at least five years prior to applying for a pardon.
"If he were to win the presidency or if a Republican sympathetic to him were to win … the president of the United States can't pardon or can't dismiss," Kreis said. "That puts it in a very different light from the federal cases."
3. While the federal judiciary — and New York courts — are averse to televising criminal proceedings, Georgia courts are more transparent, Kreis notes.
Georgia may end up being the only case that is broadcast to the world, potentially giving the public a better chance to digest the evidence — which could be politically damning for Trump.
Between the lines: Willis is considered a RICO expert who successfully prosecuted a large criminal case over a test cheating scandal in the Atlanta Public School System in 2015.
Source: https://www.axios.com/2023/08/14/trump-georgia-rico-charges-fani-willis