Last year Fanni Willis said indictments against Trump were imminent, which meant any day. Then in January 2023 she said summer for sure. Now she's moved the goalposts again, this time to September 1st, 2023, which is the start of fall. Of course, that's Labor Day weekend, and as we all know everyone is on vacation for that weekend, so how that will happen then is anyone's guess.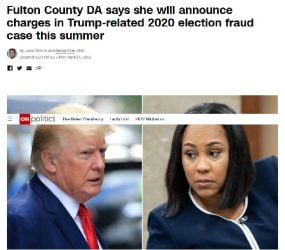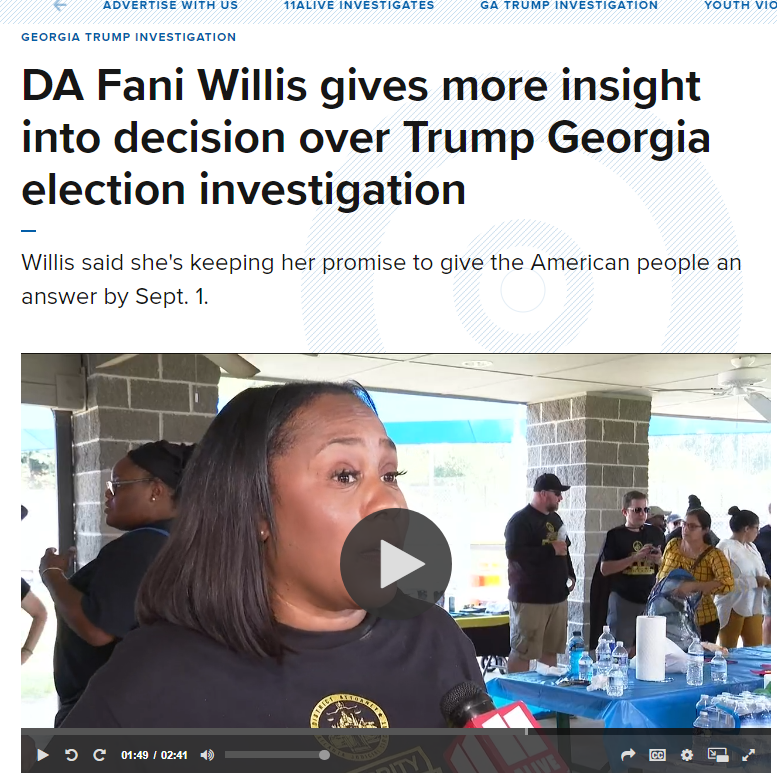 Suffice it to say she is a bullshit artist just like all the other bullshit artists out there. Plus, her promise last year was imminent, then her promise changed the following year to summer, and now her promise is September or the beginning of fall. So how she's keeping any promises at all boggles the mind. So far, she's broken every promise she's made. It isn't rocket science, you've got tapes. Indict or sit the fuck down. Fish or cut bait. Sink or swim. DO SOMETHING or move on.
Story below:
Willis said she's keeping her promise to give the American people an answer by Sept. 1.
Fulton County District Attorney Fani Willis is speaking just ahead of potential charges being filed against former President Donald Trump and his allies.
It's still unclear if Trump will be charged by D.A. Willis, but 11Alive is getting a little more insight into what we can expect in the coming days after speaking with Willis at a back-to-school event in Sandy Springs.
Willis said her back-to-school events are her favorite time of the year. And it's bringing her joy before the big decisions she has to make in the next few weeks.
"I was a single mom," Willis said. "And I can remember at the beginning of school years, that's one more financial hit. We want to relieve that stress for parents."
Mother-of-three Amiria Otiti said she hadn't even started back-to-school shopping yet. However, events like this take the load off.
"It helps tremendously because everything is priced high," Otiti said. "And anything I can do to save, I want to save."
Willis was all smiles giving away free school supplies at Morgan Falls Overlook Park in Sandy Springs, but after this, it's back to business. While the kids prepare for school, Willis is preparing for a potential indictment of former President Trump and his allies for attempting to overturn the 2020 election.
"Some people may not be happy with the decisions that I'm making," Willis said. "And sometimes, when people are unhappy, they act in a way that could create harm."
She didn't give many details, but Willis said another way she's preparing is by upping security. She explained she wrote a letter to the Fulton County Sheriff Patrick "Pat" Labat.
"I think that the sheriff is doing something smart in making sure that the courthouse stays safe," Willis said.
That includes the grand jury.
"I'm not willing to put any of the employees or the constituents that come to the courthouse in harm's way," Willis said.
Willis said she's holding true to her commitment to giving the American people an answer by Sep. 1. This could be Trump's third indictment case of the year.
Saturday students got what they needed to do their homework. And Willis said she's doing hers too.
"The work is accomplished," Willis said, "We've been working for two-and-a-half years. We're ready to go."
Willis has blocked off much of August for her team to work remotely, asking judges not to schedule trials or in-person hearings from Aug. 7 to Aug. 14.
As for the back-to-school drive, there were supplies left over. Willis said if you're a Fulton County parent who needs something, you can stop by the district attorney's office and she will help you out.
Source: https://www.11alive.com/article/news/special-reports/ga-trump-investigation/fulton-co-da-fani-willis-discusses-big-decisions-ahead-of-trump-election-investigation-donald-2020-fraud/85-6ff845d7-ead5-4488-bec4-bde23b2ce627