Well unless its September 1st this week, then I don't think so, even though barricades have gone up and everyone and their pet dogs are betting this indictment will finally drop. However, that being said Fanni Willis said last week that she expects to be giving "the people" answers by September 1st on her decision, so unless that was a complete fabrication, then we won't hear anything until then at the very earliest.
That is what she said on July 31st. So how could she just launch her indictment before then? If she does, then she was just lying to the public again, as she has done for over a year.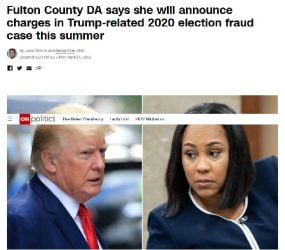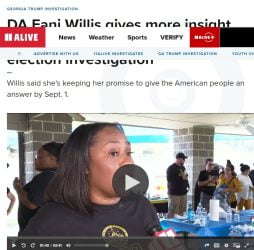 Story below:
It would be a state indictment and could be the most significant out of all the indictments since someone can only be pardoned on federal charges.
Many people in Fulton County are preparing for Fulton County District Attorney Fani Willis to announce an indictment against former U.S. President Donald Trump for allegedly trying to overturn the results of the 2020 Presidential Election in Georgia.
This would be Trump's fourth indictment this year.
An Atlanta-area lawyer tells 11Alive he believes Willis could indict Trump this coming week. It would be a state indictment and could be the most significant out of all the indictments since someone can only be pardoned on federal charges.
"I just want to find 11,780 votes, which is one more than we have."
That infamous phone call between the then president and Georgia Secretary of State Brad Raffensperger happened on January 2, 2021. Almost three years later, bright barriers surround the perimeter of the Fulton County Courthouse in preparation for Trump's possible indictment for election interference in Georgia.
"We've never had this happen before, so no one quite knows what's going to happen," attorney Darryl Cohen said.
Cohen is a former Fulton County assistant district attorney and said while there's a lot we don't know, there's certain things that are likely to happen.
"There are going to be Trump supporters that love him. There's going to be Trump haters that hate him, and we don't know if they're going to be together or if they're going to clash," Cohen said. "We don't know how many people are going to turn out, so this could all be the beginning of a story that we cannot begin to understand until it unravels."
Normally someone goes to Fulton County Jail after an arrest, but Cohen believes that's unlikely for the former president.
"I think that he will be mug shot and fingerprinted at the Fulton County Courthouse. We have a serious, really serious security problem," Cohen said.
Cohen said if Willis announced an indictment against Trump, it would be assigned to a Fulton County superior judge.
"There will be several assistant district attorneys that'll be working on this case from the beginning after the indictment, until the conclusion of whether it's concluded in a trial, a verdict of guilty or not guilty, a mistrial, whatever it is," Cohen said.
Trump Attorney John Lauro spoke NBC's "Meet the Press" on Sunday and detailed what would be a likely defense.
"Under the First Amendment, he had a right to petition governments around the country, state governments, based on his grievances that election irregularities had occurred," Lauro said.
"Well said by his lawyers. I don't believe that's accurate," Cohen said.
Congressman Jamie Raskin served on the January 6th Committee and worked for 25 years as a Constitutional law professor. He also joined moderator Chuck Todd on "Meet the Press."
"His lawyers up there saying, oh, that's just a matter of him expressing his First Amendment rights, that's deranged. That is a deranged argument," Raskin (D-Md.) said.
"This is a legal game that's about to unfold to all of us, not only in Fulton County, but in the State of Georgia and in the United States and actually internationally as well," Cohen said.
Cohen said it normally takes three months to a year and a half for cases to be heard in Fulton County Superior Couty. He thinks it would take years for Trump's case to go to trial and believes his lawyers would likely try to postpone it until after the 2024 Presidential Election.
Source: https://www.11alive.com/article/news/special-reports/ga-trump-investigation/fulton-county-insiders-expect-former-president-donald-trump-indicted-this-week-georgia/85-10b10a28-e537-49a5-a17e-042d86dd4777