Activist-Musician Donates His Song Freely For Other Musicians to Use
SEP 30, 2015 – Last year Neil Young wrote a song called "Who's Gonna Stand Up and Save the Earth?", and he gave permission to any person, musician, whoever out there to use the words and music freely on social media, video and music, and more to foster renewable energy and more to help "Save the Earth" as the song says. In the song Neil sings, "Realigning our values; People over Profit, Less is More, Nothing is Disposable" and reminds us it is up to us. Many activist-musicians stepped up and did their version, you can find numerous great versions on YouTube and other places where they composed their version to help contribute to the fight against global climate change.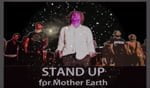 One notable version is an orchestral piece by Turkish composer/pianist Fazil Say (Black Earth) with Turkish duduk-player (double reed woodwind) Suren Asaduryan (Kayikci) set to a moving video, watch their version below.
[youtube width="420″ height="237″]https://www.youtube.com/watch?v=hzE9R1tBGNg[/youtube]