THOUSANDS OF LYRIC SHEETS, PHOTOGRAPHS AND RECORDINGS PRESERVED FOR FUTURE GENERATIONS
In another one of our installments of "Cool Things the Government and Government Employees Can Do" (along with the Marshall Plan and the TVA), Tennessee Park Ranger Bobby Fulcher has made it his mission to collect, assemble, and preserve Appalachian Mountain Music artifacts and material such as lyric sheets and recordings, all to be stored in a temperature and humidity controlled vault and preserved for future generations to listen to, see, and enjoy. Bobby also plays the banjo, and has amazingly personally collected folk and Appalachia songs literally going door-to-door and having the Old Timeys showing him the oral and traditional Appalachian music that is hard to transcribe, and sometimes only passed on orally from generation to generation.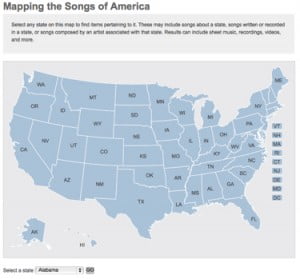 To LISTEN TO precious recordings of old Americana music such as Appalachia, folk and other American music, and also see high resolution, digitally-scanned sheet music saved by Park Ranger Bobby Fulcher and other government employees working at the State level and our Library of Congress, check out this awesome Interactive Map where you can click on a state and see sheet music and even listen to recordings! To check out the map go here: "MAPPING THE SONGS OF AMERICA". Watch the cool movie "Songcatcher" that dramatizes the collection of Appalachia mountain music, and listen to Iris Dement sing "Pretty Saro" from the movie below…awesome stuff. Read a good article on Fulcher by Mike Osborne on Voice of America News HERE.
[youtube width="420″ height="237″]http://youtu.be/A6ArylRGWME[/youtube]