1990s ERA COUNTRY SINGER TO SELL SONGS DIRECTLY TO FANS AT 'STUPID  [LOW] PRICES'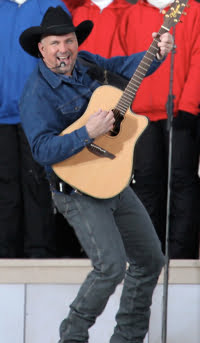 JULY 18, 2014 – Garth Brooks, the 1990s era country singer who has sold over 68 million albums and whose shows would sell out in 12 minutes, has announced he is finally embracing the digital music world and will be offering his songs for purchase in downloadable digital format very soon. But Garth is saying "fuck iTunes" and will NOT be selling his songs on Apple's iTunes or even Amazon.  The reason he is doing this is he will be selling his songs "at a stupid price" directly from his own website directly to his fans, and Garth says some people think he's giving it away. There's talk of an entire Garth Brooks music catalog at a very low price. His agents and lawyers are howling. Garth has done something like this before. In 2001, when he was on one of his last tours and making semi-tractor loads of cash, he told his managers and agents to set the ticket prices lower and only pay the hard-working crew that sets up the stage lights, amps, etc. and his band. Garth told them, "My grandkid's grandkids are set for life I have so much money!" When most acts were charging $100 a ticket, Garth was charging just $25 or less, and just playing for the love of the music and his fans.
Garth also announced a new three-year world tour and commented, "I'm very proud of the ticket price", so it seems he is still the humble Garth we know and puts the fans and music first. The tour will kick off in Chicago on September 4th, 2014 at the (allstate) Arena – Rosemont. Garth also talked about how he has signed with Sony Music Nashville and RCA and is "deep" into recording a new album, and it won't be this new hick-hock, new-fangled "country" either. Garth said, "For me, it's 'Garth music', and will be a "double album" (lots of songs!) since he has had a lot of time off. Garth even commented on one song on the upcoming album and said it "might very well have taken the place of "The Dance" as my favorite song ever. Wow. The song must be awesome, he has set the bar pretty high. His wife Trisha Yearwood and his kids will join him on the tour this time, and we wish him well for Garth deserves it. He is one of the very few very successful artists who never let money go to his head, and retired to be with his kids. (Although he did miss the first few years and his marriage dissolved) I hope more successful artists like Neil Young and his "Pono" take his cue, and remember not everyone can afford $1-5 a song. Garth's digital songs will be available for purchase and download within two or three weeks, and JTMP will post about that when it happens, so check back regularly.
Read more on Garth Brooks announcements on USAToday.com here, and check out Garth's cool new website with info on the tour and stuff here.  (photo credit: Steve Jurvetson/CC)