PEACEFUL ACTIVIST JAILED 1 YEAR FOR TAKING PHOTO OF PROTEST NEAR DRONE PILOT FACILITY
JULY 15, 2014 – Mary Anne Grady Flores is an American citizen and pacifist, and like many of us is horrified by our government flying drones remotely from thousands of miles away and indiscriminately murdering civilians at wedding parties, and wanted to exercise her freedom of speech and right to protest by frequenting the Hancock Field Air National Guard facility and protesting where the US government's 174th Attack Wing remotely pilots the MQ-9 Reaper drones from. In 2012 the US government tried to stifle Mary Anne's free speech by issuing a protective order, and she complied. In 2013, near the facility, she took a picture of an anti-drone protest she wasn't participating in, and from where she believed the facility's boundary to be. However the government said the property of the facility extends into the roadway, a judge agreed, and Mary Anne has been jailed for one year for supposed violation of the protective order.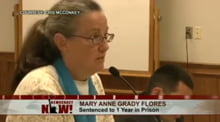 At the sentencing Mary Ann Grady Flores spoke of this outrageous act of injustice and said, "The fourth perversion is the reversal of who is the real victim here: the commander of a military base involved in killing innocent people halfway around the world or those innocent people themselves, who are the real ones in need of orders of protection? So I, as a nonviolent grandmother and a caregiver to my own mother, as I prepare for jail, itself a perversion, I stand before you remorseful. I'm remorseful about my own country and its continued perpetuating of violence and injustice." Watch the video footage in a Democracy Now video here. Please write to and support Mary Anne, and if you can please help her, the addresses are below.
CORRESEPONDENCE: Mary Anne Grady Flores 12001966 Jamesville Correctional Facility PO BOX 143 Jamesville, NY 13708
DONATIONS: Ithaca Catholic Worker 514 N. Plain St. Ithaca, NY14850 (Please write: Mary Anne Grady Flores Trial Support on memo line of check)
To find out more and to see pics of the protest check out Syracuse.com here, and for a opinion piece on the harshness and injustice of this ruling check out this Op-Ed piece by pacifist Patrick O'Neill on Syracuse.com here. To learn more about drones and the murdering that is being done in our name, with our tax dollars, coldly and antiseptically from tens of thousands of miles away, check out one of the leading groups out on the frontline fighting the death drones: UpStateDroneAction.org. Watch a YouTube video by Pazimidon below of a protest at the Hancock Field Air National Guard facility where some very brave anti-drone activists were arrested. JTMP urges our supporters to contact your elected representatives and tell them you don't want drones murdering in your name.
UPDATE: PRESS RELEASE – JULY, 18, 2014 10:00 AM EST – FOR IMMEDIATE RELEASE
Drone Activist Mary Anne Grady Flores Released on Appeal of Violation of Order of Protection
July 18, 2014, Syracuse, NY   Last night Mary Anne Grady Flores was released on $5,000 bail from the Syracuse Justice Center after appearing before County Court Judge Thomas J. Miller who granted a stay of execution of her one year sentence, pending appeal of the Order of Protection granted to Col. Earl A. Evans by the DeWitt Town Court judges requiring drone protesters to stay away from the Hancock Airbase.
"The local judges of the Town of DeWitt have helped shut down the protests of the murder of Afghan civilians by drones piloted from the airbase.  They have prevented us from exercising our First Amendment rights by issuing the Orders of Protection on behalf of the base," said John Hamilton of Upstate Coalition to Ground the Drones. Hancock is a training center for drone pilots, technicians and maintenance workers, as well as a hub of drone activities. From the base the unmanned aircraft are flown over Afghanistan, where they kill people, including numerous civilians.
 Grady Flores, grandmother of three, was the first alleged violator of the 50 drone activists who have been given the Order of Protection in 2012. She was tried and sentenced for a year in jail.  Despite being out on bail, she still faces returning to jail. Her appeals process will take months. "There are 30 upcoming trials over the next year. DeWitt Town judges threaten to sentence activists to a year in jail, many of them in their 60's and 70's," said Judy Bello of Rochester. Bello noted that donations are essential to meet the costs of bail for so many as well as $5,000 transcripts for the appeals to move forward.
 "This is far from over! The drones are still flying and the killing continues. We invite people to join the non-violent witness at the base," said Rae Kramer of the Syracuse Peace Council.
The Upstate Coalition to Ground the Drones and End the Wars www.upstatedroneaction.org is made up of antiwar organizations and formed around resistance to the MQ-9 Reaper Drone program at Hancock Field Air Force Base.
Contacts: Mary Anne Grady Flores, Ithaca Catholic Worker, 607-280-8797
Ellen Grady, Ithaca Catholic Worker, 607-279-8303
Carol Baum, Syracuse Peace Council, 315-472-5478 or 315-383-5738
[youtube]http://youtu.be/5U57kp3Ty2A[/youtube]