Well, the grand news experiment has finally failed. Remember the days that conservatives went to Zuckerberg complaining that their tiny voices were being silenced? Well, no more, Facebook/Meta has had enough of them and just cut off their funding and no longer will have them on the platform. While a few stragglers will be left to populate feeds, it won't be long before they too abandon the news project over lack of being able to monetize it. News, after all, is monetized or just not done. That's why you have popups, pop-unders and video feeds and ads that change constantly on every story. Ever notice how your phone just keeps bumping what you're reading? That's because the ad sizes are changing every few seconds and moving your story up and down. Totally aggravating.
Some sites like Raw Story are so greased up with ads that it makes any story not worth reading. They of course want you to pay up to read it ad free. Hey, I got enough subscriptions, I just refuse to pay for reading news, its just not worth it. If its free I'm all in, if its pay me first I'm out.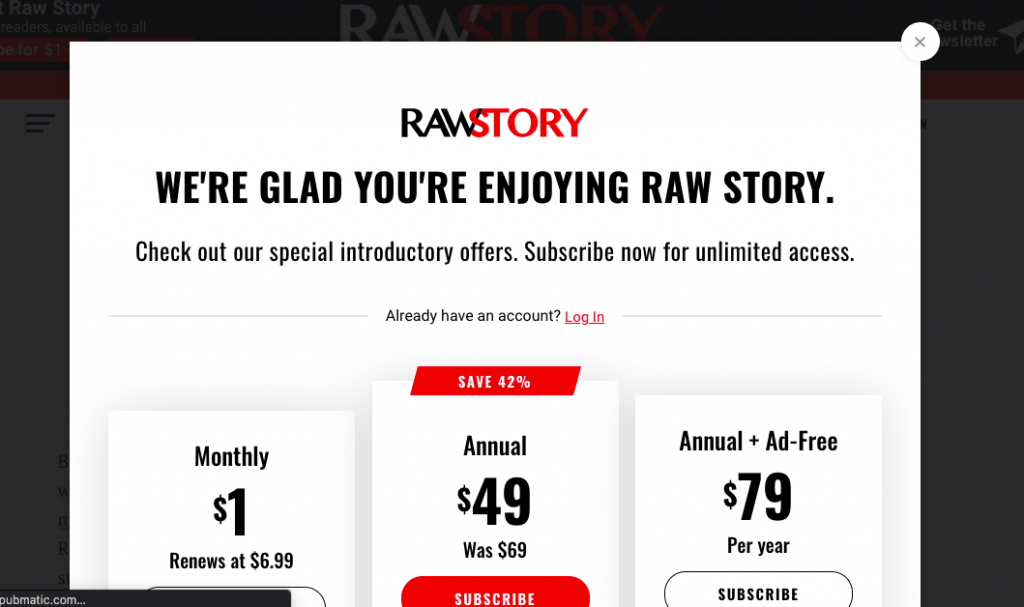 This happened a lot during Covid-19 when it first came out. News sites like the New York Times, WAPO etc, had these BREAKING NEWS stories where they were going to give you this massively important news story that you just had to know in order to keep you safe or alive, sad part was, it was pay only. And don't get me started about the Blue Checkmarks on Twitter who always tweeted out these same links to stories that you just had to read, only to find that you couldn't read the stories due to a paywall. Without paying for it, this life saving story will be hidden from you. Pay up now to live — or get lost loser. That's how it is these days.
Anyway, Zuckerberg has had it with news, both major mainstream news, and smaller mom and pop content sites, and as has been said in a number of articles out there, people are getting tired of reading mainstream news sites due to the constant drumbeating of negative information that is in fact too depressing to read on a daily basis. Now the pendulum has started swinging back to websites/blogs/vlogs/podcasts and locally produced sites.
These sites are once again growing in popularity. In the day, Facebook, Twitter etc, controlled what you put out. You might end up on a shadow list where your content is downlinked or not linked at all. Those that depended on social media suddenly found their sites being de-indexed or not getting listed at all based upon some arbitrary issue. That made many news orgs and various pundits of the day run to social media sites and pay for getting their messages out to a wider audience so they could then obtain traffic and more revenue. Well, no more of that. Now news producers and content creators are finally getting control over their own feeds back, and no longer having to bend knee to major platforms to get their content out to a wider audience.
No more worries over whether some social media company agrees with you or your content and lists it accordingly. No more worries over traffic either. It's all back to organically growing your feeds and producing content based upon what your readers/subscribers wish to see. No need to pander to Twitter or Facebook or even Google. Less ads on sites, means less invasive malware through ads being placed on your computer, less popups, pop-unders, less video sidebars. Ad infested sites constantly have problems with badly coded ads that end up injecting you with malware. Now, no more need for invasive advertising. In a large way Zuckerberg has done people who produce news content a favor. It's not about getting rich off of feeds, instead it's about content and forging ahead for your readers.
Story below:
Meta on Tuesday began telling its news partners in the U.S. that the company no longer plans to pay publishers for their content to run on Facebook's News Tab, sources tell Axios.
Why it matters: As the company moves forward with sweeping changes to the Facebook experience, news has become less of a priority.
Meta's VP of media partnerships, Campbell Brown, told staffers the company was shifting resources away from its news products to support more creative initiatives, the Wall Street Journal reported.
Catch up quick: Facebook brokered a slew of three-year deals with publishers in 2019. At the time, the company was ramping up its investment in news and hired journalists to help direct publisher traffic to its new tab for news.
The deals were worth roughly $105 million in the U.S., sources told Axios. In addition to that, the company spent around $90 million on news videos for the company's video tab called "Watch."
What they're saying: "A lot has changed since we signed deals three years ago to test bringing additional news links to Facebook News in the U.S. Most people do not come to Facebook for news, and as a business it doesn't make sense to over-invest in areas that don't align with user preferences," a Facebook spokesperson told Axios.
Be smart: The $105 million spent on additional news content for the News Tab was for incremental links. News companies could still publish content to the Facebook platform at will.
Although hundreds of news publishers are still eligible to have their content included in the News Tab, the funding to roughly 50 publishers for their content will not be renewed.
Meta spent more than $10 million on its news partnership with the Wall Street Journal, more than $3 million on its deal with CNN, and more than $20 million on its partnership with the New York Times, sources told Axios. In some cases, the partnerships also unlocked paywalled content.
The big picture: Facebook has gone back and forth about the role news should play on its platform for years, which sometimes frustrated news partners.
Before the introduction of the News Tab in 2019, the company had made a decision to change its algorithm to prioritize content from friends over brands, including publishers.
Last year, Meta's president of global affairs, Nick Clegg, said fewer than one in every 25 posts in the News Feed contained links to a news story.
Between the lines: The regulatory pressure that prompted some of these news deals continues around the globe.
Facebook launched a news fund for content in Australia last year, after a lengthy debate with regulators over funding content.
Earlier this year, Canada said it would force Facebook and rival Google to pay for news content.
What's next: As Meta shifts its focus to short-form video, other investments in projects such as audio are being sunsetted.
Source: https://www.axios.com/2022/07/28/meta-publishers-news-funding-cut