Fiery Independent Socialist Sings Seeger and Guthrie Songs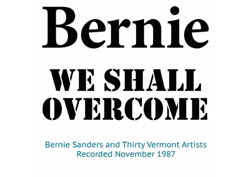 August 4, 2015 – Bernie Sanders, the fiery Independent Socialist from Vermont that is currently running for for the Democratic nomination for the 2016 Presidential election, recorded a folk music album back in 1987 singing great social-activist  folk songs from the greats such as Pete Seeger and Woody Guthrie. Being someone that has played this kind of folk music for years, I can appreciate Sanders letting these songs help guide him in his social activist and political work towards equality and justice. Only someone who really gets into this type of music or a diehard Bernie Sanders supporter will really appreciate listening to the songs, lol.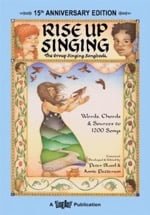 If you want to hear samples and #FeelTheBern through your speakers, head on over to the Seven Days Vermont website, and a sample of the first song "We Shall Overcome" is below. To hear the full album, you gotta buy it! The MP3 album version of Bernie's folk music on Amazon is only $5! The album is also on CDBaby here. If you want to "rise up singing" and join in, check out the Rise Up Singing book (right) and find a folk music circle near you on Meetup.com.
[soundcloud url="https://api.soundcloud.com/tracks/171837845″ params="auto_play=false&hide_related=false&show_comments=true&show_user=true&show_reposts=false&visual=true" width="100%" height="200″ iframe="true" /]