Some Holding On, Some Changing, Some "Modify"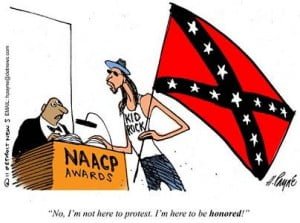 July 13, 2015 – Ripples still continue to affect the music world when it comes to the Confederate battle flag, and some bands and musicians have responded in a number of ways. Some have defended the use of the flag like Ted Nugent, Kid Rock and Nashville Pussy, some have moved towards using an American flag like Lynyrd Skynyrd, while some are taking the route like Nazis after World War II when the Nazi Swastika was banned, and are using a "modified" Confederate battle flag design trying to straddle the fence such as this t-shirt from country music star Brantley Gilbert. (See picture below)
Some country musicians came out in support of not using the Confederate battle flag anymore though, such as Big & Rich member John Rich telling Sean Hannity the flag should be removed from the South Carolina statehouse grounds. Even more vocal and passionate, Drive-By Truckers singer and guitarist Patterson Hood wrote a stinging Op Ed piece for the NY Times against the weak argument that the flag is the main and only symbol of the South's heritage, read it here.
JTMP Recommended Links:
Rolling Stone has a good piece up about bands and the Confederate battle flag here.
TheUrbanPolitico.com has a good piece up also about this intersection of music and politics here.
What do you think? Leave a comment on our website, or start a discussion on our JTMP Facebook Page here.