POLYSTYRENE FOAM CLAMSHELL FOOD CONTAINERS POISON OUR WATER SYSTEMS
NOV 2, 2014 – The picture above may look familiar and appealing, but here is where most of those clamshell food containers end up, in our waterways: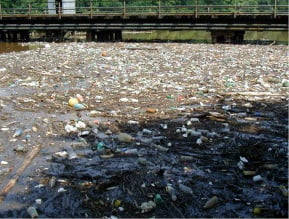 Polystyrene foam food containers also leech benzene and styrene into your hot food, and they are slowly poisoning you. JTMP calls for a nationwide ban on polystyrene foam, and any food containers made with it. We especially support banning polystyrene foam "clamshell" food containers that are so "convenient" for those 10 minutes we use them, yet it takes 500 years to biodegrade, and poisons our water systems and us. So far, DC, Seattle, New York, San Francisco, Amherst, Albany Portland and other cities and communities around the nation have stepped up and "Banned the Foam", and we hope more cities do the same.
Getting polystyrene foam banned in DC (it will take effect in 2016) had a lot to do with the great work of Clean Water Action Fund, a non-profit out there fighting in the trenches assuring our water systems get clean and stay clean. Read more about DC "Banning the Foam" on the Clean Water Action Fund's website here, and read about the dangers of polystyrene foam in a good article by Future Center Trust on BusinessBarbados.com here.  (Photo credit: Thomas Yuan/CC)
For more info check out Clean Water Action Fund.