GEDDY, ALEX AND NEIL HELP GRAPES FOR HUMANITY AND SUDANESE CHILDREN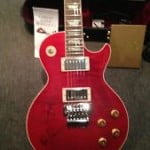 OCT 8, 2014 – The best rock group in the galaxy, RUSH, is teaming up with Grapes for Humanity and auctioning off some signed memorabilia on eBay. Grapes for Humanity Canada helps those less fortunate, and works on a number of issues such as poverty and health care. You can help Sudanese women and children and get your hands on a pair of Geddy Lee-signed, stage worn sneakers, Or my favorite, a Gibson Les Paul Alex Lifeson Signature Series Axcess electric guitar signed by all 3 band members…drool. The bidding is currently over $11,000 dollars (Canadian) right now and rising every hour. Urk. Check out all the awesome RUSH memorabilia on the Grapes for Humanity eBay Charity Auction site here:
Grapes for Humanity eBay Charity Auction Site with RUSH Memorabilia
This month Grapes for Humanity and RUSH are helping a great organization called MAGNA Children at Risk that does awesome "hands on" field work in Sudan helping children at risk from war, disease, poverty, lack of water and food and lack of health care.
Currently women and children have had to flee their homes because of war, with over 10,000 people dead and 800,000 displaced. MAGNA is out there running camps, and providing over 5,000 much needed vaccinations for Sudanese women and children at risk from diseases such as polio, measles, diphtheria, whooping cough, and tuberculosis. They are currently expanding to check for malnutrition, and they will soon be administering Vitamin A. Check out MAGNA Children at Risk here, and if you can please help out.