Musician-Activist Asks Why Are We Here?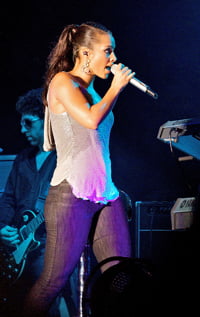 SEP 26, 2014 – Being moved by events in the world and expecting her first child, musician Alicia Keyes was sitting around with friends and realized nobody had asked themselves the question, "Why are we here?". Being motivated she did what most activist-musicians did, they worked it out in a song aptly titled, "Why Are We Here?" Alicia has launched the #WhyAreWeHere Campaign and will be helping out various organizations and causes, from stricter laws about guns to civil rights for defendants in the justice system. Read more on Alicia's awesome campaign in Nicholas Kristof's piece on NYTimes.com here. Alicia wants to make a better world for her child and other children, and spoke at length and deeply about her passion on her Facebook Page. Here is what she wrote below, and check out the video on her Facebook Page here.
"The day I wrote this song, I was sitting in a circle of people of all ages and we were asked, "Why are you here." Why am I here?? This really hit me on a deep level. I realized no one had ever asked me that question before.
As I prepare to give birth to a new child, I can't help and think about the world I'm bringing my baby into. No matter where we come from, when we see the state of the world today, we can all feel the growing frustration and desire to make a difference. And we all have a voice – we just need to know how to make it heard.
I have a vision that I believe is more than a dream, that I know can be our reality.
I believe in an empowered world community built on the true meaning of equality – where we are all considered one people, regardless of race, religion, gender, zip code, belief system or sexual orientation.
I believe all of our voices should be heard, so that our representation reflects our population. We need our leadership to reflect an equal balance of the gifts that both men and women have to offer.
I believe in a world where every child born receives a quality education – where their unique gifts are nurtured so that they may be a beneficial presence in this world.
I believe in mutual respect and cooperation among all peoples and all nations. It is time to end all forms of racial injustice for our black brothers and sisters and all people of color.
I believe in an end to the prison industrial complex in America and a renewed justice system that is based on fairness and truth.
I believe in universal global health care based on Integrative Medicine, so that our bodies are acknowledged and treated as one system, and we can help control the spread of diseases like AIDS, Malaria, TB and Ebola.
I believe we have an ability to end poverty, oppression, and hopelessness that often breeds despair, terror, and violence.
I believe in common sense gun laws that serve to protect children and families and society from unnecessary violence.
I believe in Peace & Love & Unity.
I believe that this vision can be a reality.
And, it's not about me. It's about WE.
Together we can give birth to a kinder and more peaceful world for ALL children.
Our souls were brought together so that we can love each other sister, brother. We Are Here. We are here for all of us. That's why #WeAreHere."
Sent with Light,
Alicia Keys