PRESSURE MOUNTING TO CHANGE WASHINGTON REDSKINS NAME AFTER LA CLIPPERS INCIDENT
May 23, 2014 – 50 Democratic US Senators, in a show of solidarity and to make a strong statement, sent a letter calling on NFL Commissioner Roger Goodell to push hard and get the racist name used by the Washington Redskins franchise changed quickly. Sen. Bill Nelson (D-FL) feels so passionate and strong about this, he sent one personally. Republican Senators did NOT sign the letter, and in fact they were told not to. In the wake of the LA Clippers incident and how quickly and fiercely that the NBA commissioner moved to not tolerate racism, the Democratic Senators urge Commissioner Goodell to do the same. "We urge you and the National Football League to send the same clear message as the NBA did: that racism and bigotry have no place in professional sports," said the letter from the 49 Democratic US Senators. JTMP fully supports this and also calls on the name to be changed quickly. The team got the racist "Redskins" name from a clumsy act "to honor" then-coach Lone Star Dietz. That worked in 1933, but it doesn't float in 2014. Ask yourself: "What if it was "Blackskin"? It's got to go. I am a lifelong, diehard 'skins fan (I don't use the red part) and I go way back to the days of Sonny Jurgenson and Billy Kilmer. I was there for the Gibbs era and 3 Superbowl championships. I am very loyal and will always be a 'skins fan. But I have long ago realized it is a racist name, and I joined the calls to change it long ago.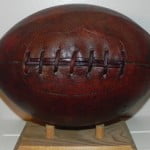 My solution? Drop the "Red" and go with "Pigskins". One of the main obstacles to changing the name is people don't like change, and this is a way to keep part of the name and it not be so abrupt of a change. You might be saying right now, "Pigskin?" Yep. The Washington Pigskins. In the early days of rugby and soccer/football, balls were "made of pig bladders" (and other animals) in several ways. Sometimes it was just an inflated bladder, or sometimes it was an inflated bladder encased in pig or cow skin sewn around it for protection. Eventually rugby and soccer/football came to America and became "American Football", the game we know today of passing and the NFL. Early American football players used the same balls made of pig bladder and pig skin, so people came to call footballs "pigskins". (See picture on left – 1920s football made of pig bladder and pig skin) Incidentally the ball would become deflated, and one game they were too tired to re-inflate it, and that is how the American football became "pointy shaped".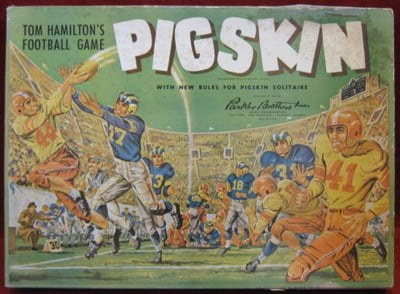 The term "pigskin" became and remains a HUGE word in the lingo of football in America. The image of a pig wallowing around in the mud like some football players do when games are played outside in the rain has been used by football teams for icons and mascots for decades, and represents toughness, strength, and American football. The 'skins had a famous, huge offensive line under Joe Bugel that were nicknamed "the Hogs". Just Google "pigskin football" and you will see football fanatics use the term for websites, teams using it for their name, "Pigskin Tournaments" and on and on.
So my suggestion is: Change the name to "Pigskins". They could even put a little logo on their helmet of a "Hog" in a football helmet to honor "the Hogs" and early American football. They get rid of a racist logo and name, and it is not too abrupt of a change. Many fans use the logo already, as seen by the logo to the left from a 'skins "fan site". What do you think? Leave a comment on our JTMP Facebook page. Read more about the letters sent to NFL Commissioner Goodell on FoxSports.com here. 
Join the calls demanding Commissioner Goodell, Dan Snyder and the NFL change the name of the Washington Redskins.
Care2 has a good petition up here.