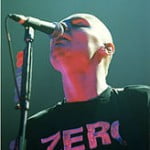 SMASHING PUMPKINS FRONTMAN FEATURED IN PAWS CHICAGO MAGAZINE
MAY 25, 2014 – Billy Corgan from Smashing Pumpkins is featured in the Summer 2014 issue of the PAWS Chicago magazine, and he talks about his recent work helping out the local PAWS Chicago charity adopting rescue cats (he hated them as a kid!) and even auctioning off time to dine with him and donating that to PAWS. PAWS is a great rescue animal charity that is Chicago's largest NO Kill animal shelter that focuses on respect for each and every life, sustainable practices, education, and responsible pet ownership. Since their founding in 1997, their work has been a big part of Chicago's animal euthanasia rate dropping dramatically.
Billy tells Alexis Fasseas on the PAWS website that at age 35 or so he entered a contemplative place and started wondering "what is happiness?" He added, "It became about what's important to me: home, family, my animals, being part of a community." He wanted an animal companion but was unsure about how to go about it. He ended up at PAWS Chicago and says their positive atmosphere for prospective pet buyers made a huge difference, "Just that little bit of extra effort, her making it personal." PAWS takes their time and make sure they match the right pet to the right owner, so all are happy and thrive. Billy credits for his passion for animal rights from a woman who was a passionate animal rights activist that opened up his eyes to animal rights, and tells PAWS, "She gave me a perspective about animal rights issues that made it personal to me. I started getting involved with Sea Shepherd and started to see I could make a direct impact on those issues."
Check out PAWS Chicago Summer 2013 issue featuring Billy Corgan here. (PDF – You will need Adobe Reader)
Check out PAWS Chicago's website here.