Former Trump attorney Jenna Ellis, Pleads Guilty In Georgia.
Jenna Ellis Highlights
This is another one of those another one bites the dust deals. Jenna Ellis who represented Donald Trump in his 2020 election battle has pleaded guilty to the charges against her. This is of course a very bad deal for Trump as it appears that the rats are exiting the sinking Trump ship. While Trump claims he's never been indicted, his co-defendants know they've been indicted and are dealing with the reality of those indictments.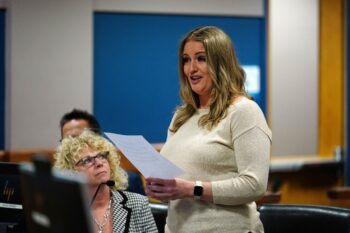 Those indictments if proven at trial would land most in a state pison in Georgia which none of those high and mighty defendants would want to spend one day in.
Of course these sweetheart deals are being handed out now, but it remains to be seen just how much longer they will be sweetheart.
Jenna Ellis, didn't have to plead to a moral turpitude case, so she stands a chance to keep her career in tact.
So far Fanni Willis is batting a thousand. But that also comes with a price in her cases against them. None of them have to do time, and all of them so far are pleading guilty to misdemeanors. However, Kenneth Chesebro, had to plead to one felony which pretty much ends his legal career.
More from The Atlanta Contitution:
Attorney Jenna Ellis on Tuesday became the fourth defendant in the Fulton County election interference case to strike a deal with prosecutors.
In exchange for her cooperation, Ellis pleaded guilty to one count of aiding and abetting false statements and writings, a felony.
The count stems from her testimony before a Georgia Senate subcommittee in late 2020. Along with co-defendants Rudy Giuliani and Ray Smith, Ellis "knowingly, willingly, and unlawfully" made false statements about election fraud in Georgia, according to her new charging document.
Under the terms of the agreement, Ellis must serve five years probation, 100 hours of community service and pay $5,000 in restitution to the Georgia Secretary of State's office. She agreed to testify truthfully when called, provide documents and other evidence, refrain from posting about the case on social media and to pen an apology letter to Georgia voters.
Ellis's plea deal came less than a week after two of the case's other defendants, Sidney Powell and Kenneth Chesebro, struck similar agreements with Fulton prosecutors just hours before jury selection for their speedy trial was set to begin. Fifteen defendants remain, including former President Donald Trump, ex-White House Chief of Staff Mark Meadows and Giuliani.
The plea agreement cites numerous false statements Ellis, Rudy Giuliani and Smith made during a Dec. 3, 2020, legislative hearing in Atlanta, during which the group pushed for lawmakers to appoint a slate of pro-Trump presidential electors, even though Democrat Joe Biden had won the state.
Among other things, the trio claimed at least 96,000 fraudulent absentee ballots were cast in the election, 2,506 felons voted, 66,248 underage voters cast ballots and 10,315 dead people voted. None of those claims were true — and Ellis acknowledged as much as part of her plea agreement.
Ellis, 38, also took the unusual step of addressing Fulton Superior Court Judge Scott McAfee, who is presiding over the case, from behind the defense table. With tears streaming down her face, Ellis said, "if I knew then what I know now, I would have declined to represent Donald Trump in these post-election challenges."
"I look back on this whole experience with deep remorse," she said.
Ellis told McAfee that she endeavored to represent Trump to the best of her ability. But in doing so, she relied on more senior attorneys "to provide me with true and reliable information," particularly as she took on a more public role speaking before the media and state legislators.
"In the frenetic pace of attempting to raise challenges to the election in several states, including Georgia, I failed to do my due diligence," she said.
Credit: Fulton County Sheriff's Office
Like Chesebro, Powell and Scott Hall, the other co-defendant to take a plea deal, Ellis negotiated with prosecutors so that she was pleading guilty to a crime that was not considered one of "moral turpitude." That distinction could make it easier for Ellis to keep her law license, though she was censured by legal officials in her home state of Colorado in March for making 10 "misrepresentations" following the 2020 elections.
Ellis was indicted in Fulton County on two charges in August: racketeering and solicitation of violation of oath by public officer.
Ellis has drawn blowback from Trump supporters in recent months for being critical of the former president and complimentary of his primary rival Ron DeSantis.
Credit: AP
She has also had issues paying for her legal defense, taking to social media to complain that Trump wasn't helping pay the legal bills of those indicted for their work for him post-2020.
"I totally agree this has become a bigger principle than just one man. So why isn't MAGA, Inc. funding everyone's defense?" Ellis wrote on X, the platform formerly called Twitter.
She instead took to the Christian-based fundraising platform GiveSendGo to crowdfund her legal defense. She so far has raised more than $216,000 from nearly 3,000 donors.