So far I am not seeing any arrest happening. Of course its still early in the morning, and I'm sure that Trump is still in bed thinking about jumping in the shower and hitting the links. Of course all this hype and talk about being arrested on Tuesday was just bullshit firing up the base. I'm sure Alvin Bragg will probably wait until a weekend to pop the cork on Trump, whereby Monday will be a state and federal holiday, forcing Trump to wait in the courthouse jail until Tuesday to be arraigned.
But that of course is just wishful thinking on my part. I don't believe Trump will be arrested today or tomorrow or any day this week or next. There is just too much media hype going on about the case to make an actual arrest on any set schedule. My guess it will happen over a weekend, maybe a Saturday night when the media is in bed all tucked in for the night and unable to produce any stories until they get back on Monday.
Trump probe: law enforcement don't expect arraignment until next week, virtual option not considered
Law enforcement officials met behind closed doors Monday to discuss the logistics of arraigning former President Trump following his possible indictment over hush-money payments made on his behalf during the 2016 presidential campaign.
A law enforcement source told Fox News Monday that the Manhattan District Attorney's Office and different branches of law enforcement discussed the logistics of closing down streets and putting lights up with generators, extra barriers and extra police.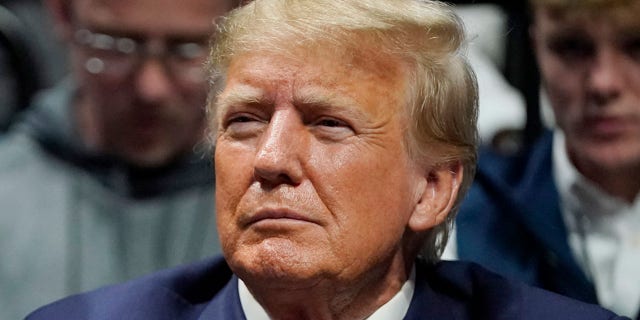 Former President Trump watches the NCAA Wrestling Championships, Saturday, March 18, 2023, in Tulsa, Oklahoma. (AP Photo/Sue Ogrocki, File)
The source said law enforcement does not expect the former president to be arraigned until next week as the Manhattan grand jury – which has been meeting secretly to hear evidence for weeks – has another witness on Wednesday. A virtual option was apparently ruled out as the DA is opposed to it. However, another source familiar with the discussions regarding the handling of a possible Trump indictment, said that a virtual arraignment for the former president was never seriously considered.
The source told Fox News that law enforcement is concerned about safety. If the former president does come up to Manhattan, there will be a major police presence and the area will get shut down. Trump has called on his supporters to protest ahead of a possible indictment. 
The grand jury has been probing Trump's involvement in a $130,000 payment made in 2016 to the porn actress Stormy Daniels to keep her from going public about a sexual encounter she said she had with him years earlier. Trump lawyer Michael Cohen paid Daniels, whose real name is Stephanie Clifford, through a shell company before being reimbursed by Trump, whose company, the Trump Organization, logged the reimbursements as legal expenses.
Federal prosecutors in the U.S. attorneys office for the Southern District of New York opted out of charging Trump related to the Daniels payment in 2019, even as Cohen implicated him as part of his deal. The Federal Election Commission also tossed its investigation into the matter in 2021. 
The Manhattan District Attorney's investigation into Trump was opened by then-DA Cyrus Vance. The probe was focused on possible bank, insurance and tax fraud. The case initially involved financial dealings of Trump's Manhattan properties, including his flagship Fifth Avenue building, Trump Tower, and the valuation of his 213-acre estate Seven Springs in Westchester.
The investigation last year led to tax fraud charges against The Trump Organization, and its finance chief Allen Weisselberg, who pleaded guilty.
Trump denies any wrongdoing and has slammed the Manhattan DA's office probe as politically motivated.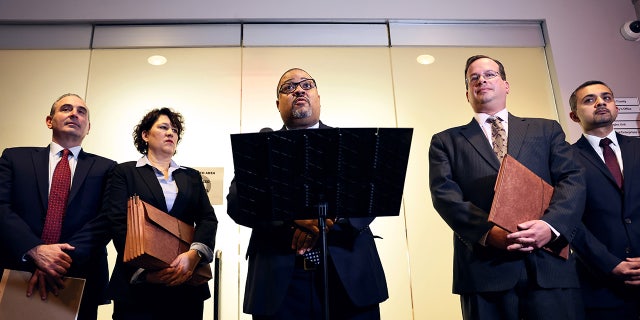 Manhattan District Attorney Alvin Bragg speaks at a press conference after the sentencing hearing of the Trump Organization at the New York Supreme Court on Jan. 13, 2023 in New York City.  (Photo by Michael M. Santiago/Getty Images)
An indictment of Trump, who is seeking the White House again in 2024, would be an unprecedented moment in American history, the first criminal case against a former U.S. president. 
Source: https://www.foxnews.com/politics/trump-probe-law-enforcement-dont-expect-arraignment-next-week-virtual-option-off-table