As if things couldn't get any worse for President Biden, the Saudis have decided that its time to give into Vladimir Putin's request for more pain for Americans at the gas pump.
Here's the thing. Remember 9/11 when the only planes flying after it were the Bin Laden's planes escaping from accountability for 9/11? The Saudis, under a murderous regime today who killed and chopped up the body of Jamal Kashoggi, and then got away with it all under the Trump administration who looked the other way, are now saying that Americans need to feel more pain at the pump, which then mushrooms into higher prices and a worsening economy.
But because these murdering ragheads are rich beyond belief, it's somehow OK for them to just cut oil production to make Biden look bad and to inflict maximum economic damage on America all because Vladimir Putin, another murdering thug wants it that way.
You see Putin can't win in Ukraine, but he still has cards left to play. And one of those cards is aligning himself with the murdering thugs that are responsible for murdering thousands of Americans on 9/11. And what will the hillbillies say to that? They will talk up how Biden is responsible instead of their decisions to align with Putin's interests. It's all a way to point fingers at Biden instead of themselves.
When will America wake up to the fact that these uber elite desert jockey fuckbags are responsible for how the American economy works? We aren't independent, we are a global economy, and we need things to stabilize for the world to recover from Covid and Trump's tax cuts for the uber wealthy.
But the Saudis have a different plan. They want to crush America, they want to usher in Trump again and all his corruption in order that they can rule the world. And we have protected the Saudis for decades. We've given them the military hardware to survive their enemies. Yet here they are having the audacity to align against American interests after we took care of them all this time.
It's time to harken back to the days when Americans knew their true enemies. And since 1973 and the early days of OPEC, the Saudis have always been our enemies. Remember gas lines back then? Remember all the destruction they caused us all throughout those years? It's time we wake up and defund the Saudis, pull their military contracts and leave them to twist in the desert. We built their production capability. We found their oil, we helped them build the infrastructure for it, and then they turned around and raped America and its allies by nationalizing the oil fields and making everyone pay for what we gave them.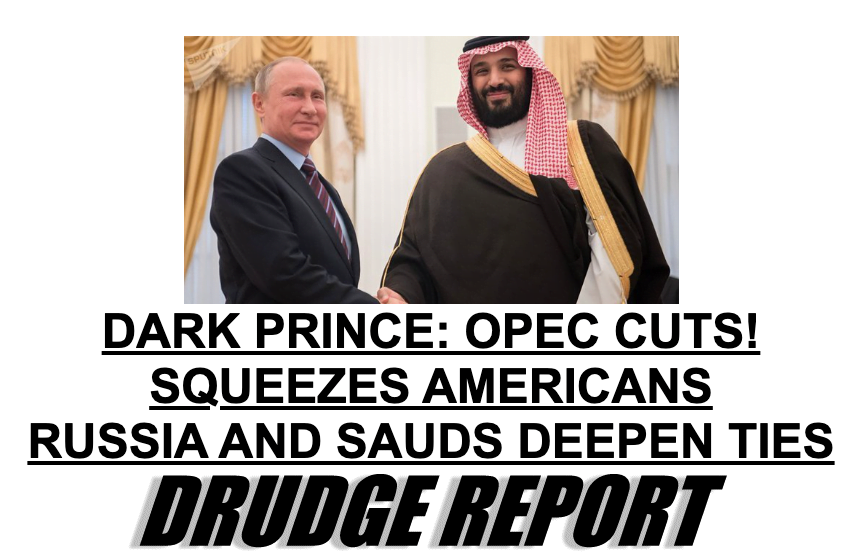 If we pull back all their protection and sent them to live in a glass palace in the desert we'd be within our rights to do so. Align your interests with Putin and you become the enemy of America. We pull their military hardware, pull their supply lines of parts, and leave them to their enemies to feast on their lack of being able to defend themselves. It's time that America made the Saudis pay for all their corruption, obscene wealth and 9/11.
Take their oil, take their money, freeze their assets, sanction the living shit out of them and force them to come to America in chains to pay for what they did to America on 9/11. Fuck the Saudis, and fuck those who align with Vladimir Putin. Take up Putin's cause today and we send in the B52's and send your asses back to to the stone age. That's how it should be done.
Story below:
The Organization of the Petroleum Exporting Countries (OPEC) and allied oil-producing nations have backed a plan to dramatically slash oil supplies in a bitter blow to President Joe Biden.
At an OPEC Plus meeting in Vienna, the cartel's Joint Ministerial Monitoring Group recommended oil output be cut by 2 million barrels a day, or around two percent of the global oil supply.
A final decision will be taken at the OPEC Plus Ministers meeting later today (October 5).
If confirmed, this would be the deepest cut in oil production since the start of the COVID-19 pandemic in 2020.
Ahead of the meeting, it was reported both Saudi Arabia and Russia were expected to push for reductions of 1 to 2 million barrels per day.
The U.S. lobbied extensively against the move, according to CNN, which could cause gas prices to rise ahead of November's midterm elections.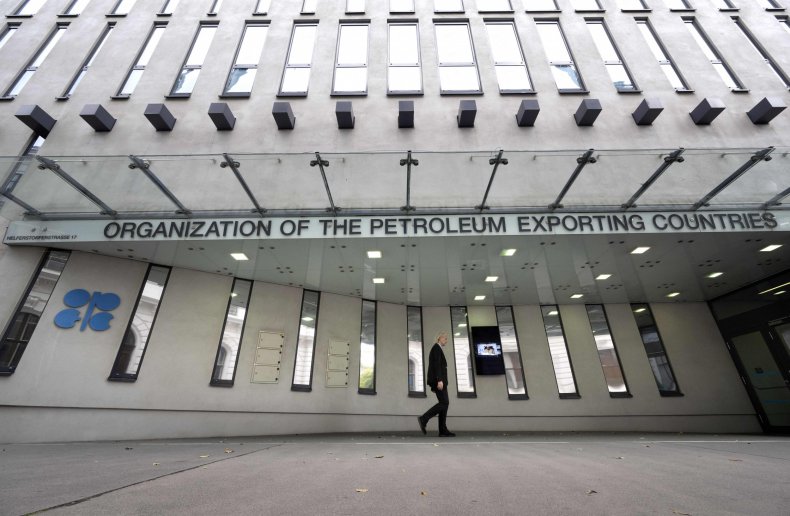 In a note, financial analysts at Citi warned: "Higher oil prices, if driven by sizeable production cuts, would likely irritate the Biden Administration ahead of U.S. mid-term elections.
Alexander Novak, the Russian deputy prime minister who is on a U.S. sanctions list, was among those who attended the meeting.
Speaking to reporters ahead of the meeting, United Arab Emirates Energy Minister Subail al-Mazroui insisted the decision would be based on technical considerations.
"The decision is technical, not political. We will not use it [OPEC] as a political organization," he said.
Draft talking points obtained by the network on Monday said a production cut would be a "total disaster" for the U.S. and would be considered a "hostile act" by the American government.
One U.S. official commented: "It's important everyone is aware of just how high the stakes are."
OPEC is a group of 13 oil-producing nations which claim to control 80.4 percent of the world's proven oil reserves. Another 11 countries, including Russia, are members of OPEC Plus, which works with OPEC toward some of its objectives.
Analysis by Bloomberg said the proposed cut will have less impact than the headline figures suggest because a number of OPEC Plus members are currently producing oil below their quote rate.
"If the full meeting of the Organization of Petroleum Exporting Countries and its allies ratify the proposal, it would have a smaller impact on global supply than the headline number suggests because several countries are already pumping well below their quotas," Bloomberg reported ahead of the meeting.
"That means they would already be in compliance with their new limits without having to reduce production."
In July, President Biden visited Saudi Arabia in an attempt to boost the Kingdom's oil output, though only a small increase was announced.
Biden defended his trip to a country he'd previously labeled a "pariah" in an essay published by The Washington Post, that only mentioned oil once.
The U.S. president was photographed "fist bumping" Saudi Arabia's de facto ruler Mohammed bin Salman, who U.S. intelligence agencies implicated in the 2018 murder of dissident Saudi journalist Jamal Khashoggi.
Update 10/5/2022 11:05 a.m. ET: This story has been updated with additional information.
Source: https://www.newsweek.com/biden-gas-price-nightmare-opec-russian-proposal-cut-oil-1749129