False Rumor Attacked by Guitarist Vivian Campbell, Calls Trump a "Clown"
AUG 14, 2015 – CNN reported back on July 17, 2015 that two Trump campaign aides told them that The Donald  would be introducing 80's rock band Def Leppard at the Iowa State Fair that many 2016 Republicans are currently touring as part of their 2016 Presidential campaign. Def Leppard is part of the "Grandstand Line-Up" of bands at the fair along with Styx and Tesla on Saturday night.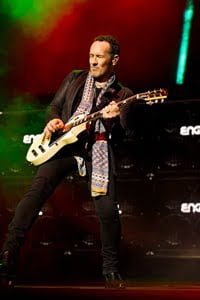 Two days later, Def Leppard's guitarist Vivian Campbell called Trump a "clown" and posted on his Facebook page, "I really, really, really hope that there's no truth to this rumour. Def Leppard have never been a political band, and if we were, I for one wouldn't be associating my name with this clown."  Now, the Des Moines Register has reported 2 days ago that Trump campaign spokesperson Hopes Hicks told them, "[Trump] is not introducing Def Leppard It was never in play. Not sure where that report came from, but it is false."  CNN needs to call back those 2 Trump spokespersons and ask them where they got their information from. This ties into how Trump's campaign works, they bully, bluster, exaggerate, and sometimes outright lie.
Read more on CNN, Des Moines Register, and Def Leppard's guitarist Vivian Campbell's Facebook Page is here. Don't forget about Justice Through Music's Facebook Page, please "Like" us and start a discussion.