Texas Guitarist Picks at US Capitol Building Ceremony Honoring Czech Artist, Playwright, Poet and "Father of His Country"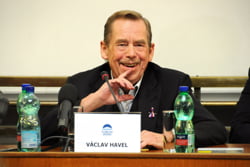 NOV 20, 2014 – ZZ Top's guitarist Billy Gibbons played the US Capitol at the unveiling of the Vaclav Havel bust ceremony yesterday. The versatile guitarist was surprised but honored when he was invited, for Vaclav was a playwright and political dissident from the Czech Republic, and Billy is a guitarist from Texas, USA. Billy played two different guitars, one was an early, square guitar, and the other was a custom-made electric with Buck Owens on the front. Gibbons just played a few lines starting with a couple of riffs of "Baby Please Don't Go", referring to the Czech Republic and it's hard-fought freedom that Vaclav Havel worked his whole life for. He then played a few bars of "Thank You", changing the words to "You didn't have to change it, but you did, but you did…and WE thank you", referring to Havel's work to get the Czech Republic it's independence and democracy started and formed.
Vaclav Havel was a Czech playwright, poet and political dissident that led the Czech people to independence and freedom using his artistry, words and ideals. In 2012 his widow, Dagmar Havlova, set up the Vaclav Havel Prize for Creative Dissent. The prize celebrates "those who engage in creative dissent, exhibiting courage and creativity to challenge injustice and live in truth". Read more about the remarkable man Vaclav Havel on Wikipedia here.  
See a high resolution picture of the Vaclav Havel bust here, and for an in-depth article on the whole affair check out PraguePost.com HERE.   Watch two great videos of Gibbons playing the Vaclav Havel ceremony from PSB Satellite on YouTube below.
[youtube width="420″ height="237″]http://youtu.be/LPZOn3scT6s[/youtube]
[youtube width="420″ height="237″]http://youtu.be/kbHU-ikKscs[/youtube]