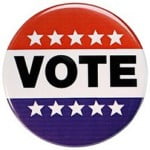 UPDATED! MAY 21, 2014 08:00 AM EST
MAY 20, 2014 – Today is a "Mini Super Tuesday" with 6 states, Kentucky, Georgia, Idaho, Pennsylvania, Oregon and Arkansas all having their primary elections today, with many races having major implications on the Teabagger and Republican parties, and whether Democrats can maintain their majority in the US Senate this fall. Here is a rundown of all 6 and what you should know.
1) Kentucky – Kentuckians are holding their Republican primary. Incumbent Turtleman Sen. Mitch McConnell is facing upstart whacko Teabagger Matt Bevin, but Bevin is way down in the polls. He has ran a terrible campaign, he's a whacko, and is going down in flames. Mitch McConnell should cruise through his primary election; but he faces a tough fight in November against Alison Lundergran Grimes, who is running a pretty decent campaign and is neck and neck with McConnell in the polls. This will be a major race to watch this November. The US Chamber of Horrors (aka Commerce) plans to spend tons of .01% money to re-elect Uncle Corporate Sugar Mitch McConnell.
RESULT: McConnell crushed the Teabagger Matt Bevin, Alison Lundergan Grimes easily won her Primary, they will face off in November for the most watched, and I predict the most dirtiest and hard-fought campaign. McConnell came out swinging at Alison claiming she will harm the coal company owners by blocking a union-busting  "Right to Work" law in Kentucky, but the scrappy Alison came back and said, ""Right-to-work is simply wrong for the state of Kentucky. It's about recognizing and knowing that labor has literally lifted millions out of poverty!", and is getting out in front and really standing up for labor and regular folks. The unions are strongly behind her now, read more on WDRB.com.
2) Georgia – Seven Republicans face off in that state's primary, including several moron Teabaggers locked in a circular firing squad (even using dirty tricks that that are even shocking by Georgian politics standards), are fighting a wild 7-way race in Georgia. The two top contenders seem to be ex-Dollar Store CEO David Perdue, who will bring Georgia more minimum wage jobs and cheap plastic crap. Just what Georgians need. The other top contender is Karen Handel, who is being "endorsed" by Sarah Palin and other Teabagger figures. The winner will face Democratic challenger Michelle Nunn in the fall, daughter of ex-Senator Sam Nunn. who appears to be a strong candidate. Once again, the Democrats are very fearful of losing the US Senate this fall, and Michelle Nunn could help them.
RESULT: The Teabaggers flamed out here, for the Palin-endorsed Teabagger Karen Handel placed a distant third and will NOT be in the runoff election on July 22nd. Instead, .01 Percenter ex-Dollar Store CEO David Perdue finished first, and Jack Kingston took second. Since Perdue did not get more than 50% of the vote, there will be a runoff election between Perdue and Kingston; Handel will be in the unemployment line. Maybe if she's lucky she is in a right-to-work state and get a job as a coal miner. Dive into the details of Georgia's election results on WSBTV.com here.
3) Idaho – What to say about Idaho? Hey Diddlle Diddle, straight up the middle this primary had an interesting debate the other day between Incumbent Republican Gov. Butch Cotton and state senator Russ Vulture, I mean Fulcher. Some biker dude and a curmudgeon was on stage too. If Fulcher loses along with Matt Bevin, the Teabaggers will be down for the count. The only thing Fulcher and Bevin can do is say their opponent, "Isn't conservative enough." I say vultures will be picking over Fulcher's bones tomorrow.
RESULT: Turnout was low, and many complain that Idaho is a one-party state, as Republicans hold every frickin' office statewide. Incumbent Governor Butch Otter held off the Teabagger crowd favorite state senator Russ Vulture, I mean Fulcher. Idaho Republicans rejected Obamacare, but set up a state exchange for people to purchase health insurance. Apparently  that wasn't good enough for the Teabag crowd; one must not only reject the evil Obamacare, but one must also not even set up any kind of exchange similar to Obamacare. Let them eat high medical bills! So, Butch will face Democrat AJ Balukoff, who currently chairs the Boise School Board. I wonder who will win…..hmmmmmmm. Read more on Spokesman.com here.
4) Pennsylvania – Democrats in Pennsylvania are going to the polls Tuesday to pick their nominee to run against incumbent Republican Governor Tom Corbett. Corbett is way down in the polls after enacting voter suppression laws, attacking unions and working people, and basically being a Teabagger. Businessman Tom Wolfe looks poised to take the primary. Also, Chelsea Clinton's mother-in-law is trying to pick up the Democratic nomination for Pennsylvania's 13th US Congressional district that is being vacated by Allyson Scwartz to run for Governor, but is in a tough 4-way fight with 3 others. This is considered a "fight for the soul of the Democratic party"  between the Clintons trying to use their influence and money, against grassroots candidates. That will be interesing to see those results tonight.
RESULT: In a race watched by many Democrats for the winner will face a vulnerable current Republican Gov. Tom Corbett, Tom Wolf won with 58% of the vote, Alyson Schwartz picked up only 18%, so Wolf will advance and face Corbett in the fall. Many Democrats see this as an opportunity to take the Governor seat and roll back the Teabagger legislation such as voter suppression laws that Corbett advanced. Read more on PennLive.com here.
5) Oregon – Republicans are nominating their contender to go against Sen. Jeff Merkley (D-OR) in the fall. There are some dirty tricks going on, something about  one of the candidates, Dr. Wehby, stalking an ex or something. Yawn.
RESULTS: The stalker Dr. Wehby won the Republican nomination for US Senate, and will face current Democratic Senator Jeff Merkley this fall. Read more on OregonLive.com here. Southern Oregon lawyer Dennis Richardson won the Republican Governor primary, and will face current Democratic governor John Kitzhaber this fall. Read more on OregonLive.com here.
6) Arkansas – Both the Republicans and the Democrats are holding their primaries, with incumbent Democratic Sen. Mark Pryor (D-AR) and Republican Rep. Tom Cotton (R-AR) predicted to cruise through their primaries; so the real election will be in the fall. This is a seat the Democrats are furiously protecting, and many people believe that President Obama is delaying his decision till after November's election to NOT approve the Keystone XL Pipeline project to cover for him and Alaskan Senator Mark Bevich (D-AK).
RESULTS: Democrat Mike Ross and Republican Asa Hutchington both easily cruised their primaries for the nominations for the Governor of Arkansas. The Democrat Mike Ross came out in support of public education and improving it, and the Republican I am sure said something about tax cuts blah blah blah. Read more on ArkansasNews.com here.