It's time, past time for them to see that Chubby Tubby is playing games with the military. He needs to go and go quick.
Story below:
A group of Democrats in the Senate Armed Services Committee urged the GOP leader in a letter to "take stronger action to resolve this situation."
A key group of Senate Democrats urged Minority Leader Mitch McConnell on Monday morning to exercise his authority as head of the Senate GOP and "prevail" to end Sen. Tommy Tuberville's "reckless hold" on military nominations.
"We write you today to share our deep concern for the stability of our Armed Services and national security and call on you to exercise your leadership to protect the readiness of our military," the senators wrote in a letter to McConnell, according to a copy obtained by NBC News.
Tuberville, an Alabama Republican, has been "single-handedly blocking the promotion of hundreds of generals and admirals" and "threatening our national security" over his opposition to a Defense Department policy that pays travel expenses for service members who need to go out of state to obtain an abortion, the letter said.
"We know you share our concerns about the consequences of this hold on our Armed Services, and as the leader of your conference, we urge you to take stronger action to resolve this situation," the senators said in their letter to McConnell.
The Democratic signatories to the letter — led by Sen. Mazie Hirono of Hawaii — include Sens. Elizabeth Warren of Massachusetts, Jacky Rosen of Nevada, Richard Blumenthal of Connecticut, Tim Kaine of Virginia, Mark Kelly of Arizona, and Tammy Duckworth of Illinois, along with Sen. Angus King of Maine, an independent who caucuses with Democrats.
They all serve on the Senate Armed Services Committee with Tuberville, who has said he would end his blockade on military nominations, which now affects more than 250 officers, if given a vote on the Pentagon's abortion policy.
A spokesperson for McConnell did not provide comment when asked about the letter from Senate Democrats.
Senate Majority Leader Chuck Schumer last week signaled openness to giving Tuberville a standalone vote affirming the policy but put the onus on Senate Republicans to find a path forward.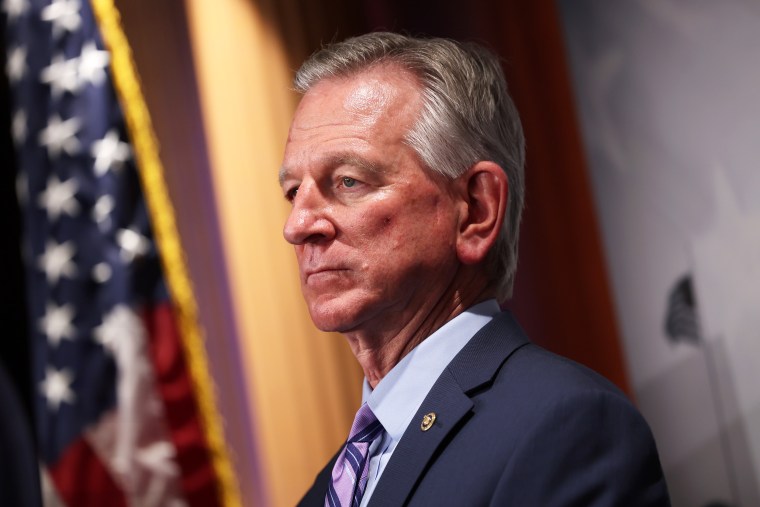 "If he wants to have an affirmative vote, we would not object to it," Schumer said Wednesday at a news conference in response to a question by NBC News. "Tuberville said he wanted a vote, we'll see what happens. The bottom line is it's up to the Republican leadership.
"This is a problem that they have in their caucus, that they have with the country. They are risking our security and it's up to them to fix it," Schumer said.
In the past, McConnell has criticized Tuberville's hold as "not the best way to go about" dictating a policy change. But last week he told reporters that he would be "reluctant" to try to disrupt Tuberville's blockade by changing the process for holds in the Senate.
"We have holds on both sides. What typically happens is you work it out, and I think that's where we ought to stay," McConnell said.
Several Democrats on the committee see it differently. They wrote in their letter to McConnell: "As the leader of the Republican Conference, we count on you to hold your colleagues accountable when they recklessly cross boundaries and upend Senatorial order.
"Senator Tuberville's continuation of this stalemate is reckless, dangerous, and must end. It falls to you to act now, for the safety and security of our nation."
Source: https://www.nbcnews.com/politics/congress/democrats-urge-mitch-mcconnell-end-tubervilles-military-blockade-rcna95708