The question is will he even get it? Most say no, not this time. A few outliers are begging for it by claiming that 50 percent of his base want it. But truth be told, most realize that they will go to jail and be prosecuted for obstruction at the very least. And there will be no pardons, no recourse, no clean slates given. It's a guarantee that they will not pass go or collect 200 dollars. Instead they will face long terms inside the New York city jail system which isn't a pretty sight. And after the January 6th attack on the Capitol, few are ready for more criminal charges or lockups inside seedy jails where the comforts of home will not be seen again for quite some time.
Trump is preparing his base for violence if he's arrested–and over 50% of them are ready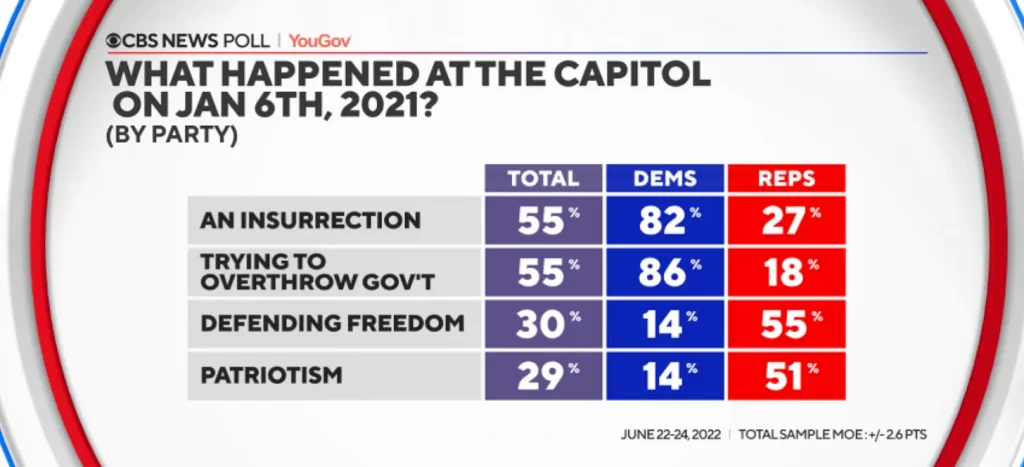 The above image from a June 2022 CBS poll deserves far more attention—especially now as Trump is beginning to call his base to "protest" if he is charged with a crime. There was a time when Republicans overwhelmingly rejected the violence we saw on Jan 6—but those days are gone.
When Republicans were asked last year how they would describe what happened on Jan 6th, 51 percent responded they see it as an act of "Patriotism." And 55 percent of GOP voters view that brutal attack designed to keep Trump in power despite losing the election as an act "Defending Freedom." (Imagine what the GOP reaction would be if polls showed over half of Democrats supported a terrorist attack upon our Capitol?!)
That means Trump and a majority of the GOP base see violence as an acceptable tool to acquire and retain political power. That is the essence of fascism. As Madeline Albright stated when discussing her book "Fascism: A Warning," "Whatever else it is, fascism involves the endorsement and use of violence to achieve political goals and stay in power."
This also means Trump's efforts calls to his base to commit violence if he's arrested will alarmingly find traction in an already radicalized GOP base. And Trump knows this. Indeed, no one knows Trump's base better than him.
That is why Trump has been preparing his base to commit violence to avenge him if he's charged with a crime for well over a year. In psychological terms, what Trump has been doing is called "priming," which is defined as exposing a person to a stimulus—like words, images, etc.–that influences their behavior at a later date. In general, the person is unaware that have been guided or primed to this point. As experts note, "Priming can be used maliciously or to be manipulative."
Trump began priming his base for such violence back in January 2022 when he told his supporters to take to the streets if any prosecutor, anywhere charges with him with a crime—not just the Manhattan District Attorney. That is when Trump told his fans at a rally in Texas: "If these radical, vicious, racist prosecutors do anything wrong or illegal, I hope we are going to have in this country the biggest protests we have ever had in Washington, D.C., in New York, in Atlanta and elsewhere."
In September, Trump was on Hugh Hewitt's radio show where he again repeated this message—but even more ominously. He told Hewitt that if he's charged with crimes, "I think you'd have problems in this country the likes of which perhaps we've never seen before." When asked by Hewitt what he meant by "problems," Trump responded, "I think they'd have big problems. Big problems."
Part of Trump's "priming" of his base to commit violence when called upon was made more persuasive by Trump's repeated promise to pardon the Jan 6 terrorists. It's not a coincidence that the first time Trump publicly floated the idea of pardoning these traitors was in the same speech in January 2022 where he called on supporters to engage in massive protests. That is when Trump stated, "If I run and I win, we will treat those people from January 6 fairly — we will treat them fairly." He added, "And if it requires pardons, then we will give them pardons because they are being treated so unfairly."
Trump has since even despicably stated the Jan 6 terrorists—some who brutally beat police officers—not only deserve a pardon but also deserve an "apology." Trump's message is clear: Engage in violence on my behalf and I will have your back if I can get back in the White House.
That brings us to where we are now. Trump is now calling on his supporters to engage in mass "protests" if he is charged. On Saturday morning, he wrote on social media: "Protest, take our nation back" if he is charged by the Manhattan District Attorney with crimes. Later Saturday, Trump repeated the message in all caps, writing, "THEY'RE KILLING OUR NATION AS WE SIT BACK & WATCH. WE MUST SAVE AMERICA! PROTEST, PROTEST, PROTEST!!!"
Trump's all caps calls for "PROTESTS" instantly conjures up Trump's infamous December 19, 2020, tweet where he called for mass protests to block the Jan 6 certification of President Biden's electoral win. Trump—after first spewing election lies—then wrote: "Big protest in D.C. on January 6th," adding, "Be there, will be wild!" That tweet—as federal prosecutors and the Jan 6 House committee that investigated the attack have laid out—were seen by some Trump supporters as a call to arms.
Just one of many examples include a leader of the paramilitary group the Oath Keepers, Kelly Meggs, who sent a series of messages on Facebook to fellow Oath Keepers that referenced Trump's "wild" tweet. Meggs wrote, "Trump said It's gonna be wild!!!!!!! It's gonna be wild!!!!!!! He wants us to make it WILD that's what he's saying. He called us all to the Capitol and wants us to make it wild!!! Sir Yes Sir!!! Gentlemen we are heading to DC pack your s***!!"
Meggs has since been convicted–along with Oath Keepers leader Stewart Rhodes–of seditious conspiracy for his role in the Jan 6 attack.
Trump knows all of this. Again, Trump knows his base better than anyone and understands that they will commit violence on his behalf. We saw this very scenario play out after Trump's Mar-a-Lago residence was searched on August 8, 2022, pursuant to a court approved warrant. Trump released a statement shortly thereafter that read in part, "These are dark times for our Nation, as my beautiful home, Mar-A-Lago in Palm Beach, Florida, is currently under siege, raided, and occupied by a large group of FBI agents," as he slammed the search as "political persecution." Trump two days later baselessly accused the FBI of potentially "planting" evidence.
It is not surprising given Trump's words that the FBI was soon subject to an "unprecedented" number of threats against FBI agents. One person—who had in the past repeated Trump's false 2020 election claims on Trump's social media platform-even attacked the FBI office in Cincinnati and was killed a short time later in a shootout with the police.
It's inspiring to see that Manhattan DA Alvin Bragg told his staff by way of an email Saturday night that, "We do not tolerate attempts to intimidate our office or threaten the rule of law in New York." He added—while not mentioning Trump by name—that, "Our law enforcement partners will ensure that any specific or credible threats against the office will be fully investigated and that the proper safeguards are in place so all 1,600 of us have a secure work environment."
This email sounds, though, like something you would hear from a DA when a terrorist leader or mob boss was being potentially prosecuted, not a former president. But that is where we are as a nation given Trump's violent history.
There will not be a civil war as Trump wants. But there will likely be pockets of violence by Trump supporters to defend him. The police will (hopefully) be ready this time as opposed to Jan 6. The truth is that the more MAGA supporters who commit violence in jail, the better it is for our nation in the long run.
The battle to defeat Trumpism is far from over. And it will get uglier before this war ends. (And yes, it's a war against fascism.) The only way to win this fight is to stay engaged. Our freedom and our Republic depend on it.
Source: https://deanobeidallah.substack.com/p/trump-is-preparing-his-base-for-violence