The endless craziness that has been going on since 2015 is wearing voters down. Hell, not just voters, but everyone in the fight to keep democracy alive. On the one hand, people are more engaged in the political spectrum. On the other hand, the constant appeals to fight on, because this is the last time that we will see democracy unless you get out and vote, are starting to really get to people.
This was a rough week for democracy worldwide, and it's not over, hell, it's just the beginning of the election cycle. We are being hit with all manner of appeals to save democracy from authoritarians taking over the process and ending our way of life. If we don't vote, and vote Blue, it'll be over they say. And this battle has been going on since 2015. How much longer will "we the people" have to fight to save our democracy? It's like democrats say: this is the last battle, and if we win, democracy is saved, and authoritarians will be vanquished, and the fight will be over.
Problem is that the fight will not be over. The authoritarians will not just slither away like snakes, they will keep coming, and they will never stop until they take over. The battles ahead will be hard fought, and the end of the 2024 cycle will not save democracy forever and a day. Liberals will be in this battle until they are dead. If they quit or get worn down, then the end is closer than the beginning.
We are dealing with craziness on a worldwide scale as we have seen this week. We have also seen that Vladimir Putin is not dead or scared or fighting cancer or losing his battles. He is in fact able to command a worldwide group of fighters for his causes. His pivot to the Middle East was a strategic move that few saw coming. And in a lot of ways, it worked to deflect his losses in Ukraine and force the United States into a two front proxy war. The only thing left is to see China now move to take over Taiwan, and the United States and NATO will be in a 3 front proxy war. And if you don't think this will happen, think again.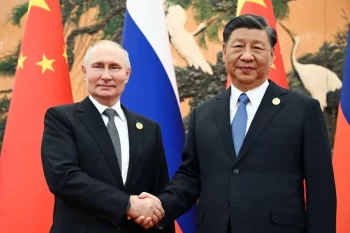 The fact that Putin in Russia is now meeting with Xi in China to craft a new world order is evident that the world is literally at the brink of World War 3. And Xi is clearly going to attack Taiwan, the only question left is a matter of timing. Putin and Xi's goals are to eliminate the United States like HAMAS and the Arabs are trying to eliminate Israel. They have the ground troops already willing and able to commit to this fight as we've seen recently with global protests over the Palestinians, which NO ONE gave two shits about prior to October 7th, 2023. But now, this realignment is a major threat to the world order. The rules of the game are over and now being redesigned to no rules at all, ever.
Democrats, liberals, and Democracy has not seen this type of battle since World War 2. And this battle is going to be one of huge proportions. Liberals are not fighters in the sense that authoritarians are. They prefer diplomacy over down and dirty hand to hand combat that authoritarians are used to. In order to win this type of battle, liberals are going to be forced to either fight dirty and get down in the mud and do what is necessary or they will have to finally surrender to the authoritarians and let them have what they want. Those are the only two options left in the current political environment.
Republicans and authoritarians are rank cowards. That is what liberals don't seem to understand. If you take the battle to them and give them no options but to get down and fight, they will run away like the cowards they are. But liberals are always overly concerned about what right wingers will say or do to them if they fight, so they always opt out to surrender rather than fight for their causes. And Republicans know this. So, they are always able to wear their opponents down until they capitulate on Republican terms.
This is not a battle that liberals can lose though. This battle is for all the marbles. And it's that way because this war between the two sides, good versus evil, has finally bubbled to the surface where there are no options left. You either fight or you lose. Liberals need to go nuclear and use first strike capabilities to solve this battle once and for all. It is long past time to hold back and worry over public opinion. You can't save the crazies from being crazy and turn them back to your side of thinking.
Liberals of course will say no, we can't sink to their level because if we do, we will become like them, and we can't do that. We have to rise above it and offer a better way for the people. But this is fallacy. That might have worked 20 or 30 years ago. But today the world is a much darker place, because evil has spread darkness everywhere. In order to see the light one must fight to get it back. This is a Matrix level battle, and liberals need to see it for what it is and know that the only way out is to fight like hell to save what we have left. Gore Vidal once said of Republicans that they were like the Hitler Youth.
Some people say that it's too much, it's too hard, and the best solution is to just ignore it and one day it will work itself out. But that is what Republicans and authoritarians are counting on. They want people to disengage and leave it to others to fight whatever battles are ahead. It's sort of like when Howard Beale went on his "mad as hell and I'm not going to take this anymore" speech. Let's recount that speech.
That is today's liberal viewpoint. Just leave us alone, let us have our toasters and steel belted radials and we will let you do anything you want. But you can't be that way now. You have to get mad; you have to get angry; and you have to stand up and scream, "I'm mad as hell and I'm not going to take this anymore." That is how you have to think of it.
Words to live by.