It's about time some of these rioters from J6 get some serious time in prison. Most of them have been getting downward departures by over half of the prosecutors' recommendations. But this guy seems to have had the full weight of law come down on him. And why not? The guy is a certified scumbag.
Story below:
Daniel "D.J." Rodriguez, who was wearing a MAGA hat when he drove a stun gun into the officer's neck at the Capitol, was arrested after the online "Sedition Hunters" community helped identify him.
A Donald Trump supporter who drove a stun gun into the neck of a D.C. police officer who was abducted by the mob during the Jan. 6 attack on the U.S. Capitol was sentenced to 12.5 years in prison on Wednesday.
Daniel "D.J." Rodriguez, a California man who traveled to D.C. with fellow Trump supporters who belonged to a Telegram group called the "PATRIOTS 45 MAGA Gang," pleaded guilty in February to felony conspiracy, obstruction of an official proceeding, tampering with documents or proceedings, and inflicting bodily injury on officers using a deadly or dangerous weapon.
"There will be blood," Rodriguez wrote in "MAGA Gang" Telegram chat on the night of Jan. 5, just hours before attending Trump's rally at the White House Ellipse. "Welcome to the revolution."
On Jan. 6, after joining the fight in the Capitol's lower west tunnel — where some of the most violent scenes of the day played out — Rodriguez attacked officer Michael Fanone, later bragging about his actions in the Telegram chat.
"Omg I did so much f—ing s— [right now] and got away," Rodriguez wrote to fellow members of the Patriots 45 MAGA Gang. "Tazzed the f— out of the blue."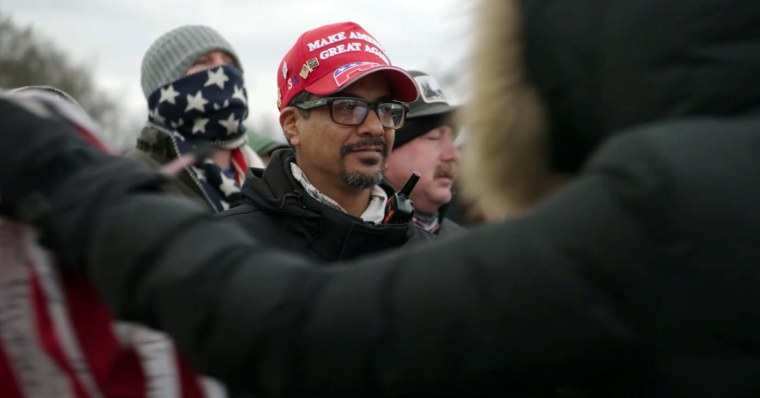 U.S. District Judge Amy Berman Jackson imposed Rodriguez's 151-month sentence on Wednesday, saying he was a "one-man army of hate, attacking police officers and destroying property" on Jan. 6.
Fanone, speaking during Rodriguez's sentencing hearing, called Rodriguez's life story "pathetic" and said he lost his career, friends, and faith in the criminal justice system because of what he went through that day.
"I don't give a shit about Daniel Rodriguez. He ceased to exist to me as a person a long time ago," Fanone said on Wednesday. "Any compassion or empathy I felt toward those who laid siege to our Capitol, whose actions I felt were at least in part influenced by their leader Donald Trump and his lies, has been eroded — eroded by the attacks directed at me and my family by supporters of Donald Trump and the right- wing media."
Fanone, referencing special counsel Jack Smith's ongoing investigation into Trump's actions leading up to Jan. 6 — called for the Justice Department to pursue an indictment against Trump and anyone else responsible "regardless of their wealth or current political position," and prove the mantra that no one is above the law.
"Your honor, we must all join in the fight against Donald Trump and the destructive divisive movement he has come to represent," Fanone said. "We must offer him no safe harbor, and to his enablers — whether in business, in politics and the media — give no quarter. In the fight to preserve our Republic, there can be no spectators.
Ahead of his sentencing, Rodriguez spoke for about 20 minutes in a rambling speech, saying he "truly" thought a civil war was going to begin and that he believed the Proud Boys and Oath Keepers formed because police were standing down across the country. He acknowledged his actions against Fanone, but stopped short of an apology.
Federal prosecutors wanted Rodriguez to spend 14 years in federal prison — an upward departure from his sentencing guidelines, which suggested a sentence of roughly eight to 10 years — saying that Rodriguez committed an act of terrorism. Rodriguez's "egregious" conduct "displayed a clear intent to stop Congress from certifying the results of the election" and was "calculated to stop the peaceful transfer of Presidential power for the first time in the nation's history," prosecutors argued, calling Rodriguez's efforts "a quintessential example of an intent to influence government conduct through intimidation or coercion."
Rodriguez's federal public defenders said Trump's "incendiary lies" about the election "created a frenzy of anger and uncertainty" and that Rodriguez's "unwavering belief in the words of the former president that drove him to lose all sense of right and wrong." Rodriguez "deeply respected and idolized Trump," whom he saw "as the father he wished he had," they wrote, saying Rodriguez "believed Trump was someone to be admired: a multimillionaire who graduated from Wharton Business School, with his name massively displayed in gold on buildings across the United States."
Forrest Rogers, an American living in Germany on Jan. 6, first surfaced evidence that Rodriguez electroshocked Fanone after pouring over online footage frame by frame as part of his work for "Deep State Dogs," one of the groups of online "Sedition Hunters" that popped up in the wake of Jan. 6 to identify Capitol rioters. After Rogers tweeted footage of the incident, Rodriguez was identified by activists who knew the MAGA-hatted man from the protest scene in Beverly Hills.
Rodriguez was then identified in a February 2021 HuffPost story, and was arrested by the FBI the next month. In an FBI interview after his arrest, Rodriguez called himself a "f—ing piece of s–t" and said he was "not smart." Rodriguez said he was influenced by the far-right conspiracy theory website InfoWars as well as conservative commentators like Steven Crowder, Mark Dice, and the "Hodgetwins" brothers duo. Rodriguez, who believed Trump's lies about the 2020 presidential election, told the FBI that Trump had "called us" to D.C. on Jan. 6, and that he felt a duty to respond to the commander-in-chief.
"Are we all that stupid that we thought we were going to go do this and save the country and it was all going to be fine after?" Rodriguez said during his FBI interview. "We really thought that. That's so stupid, huh?"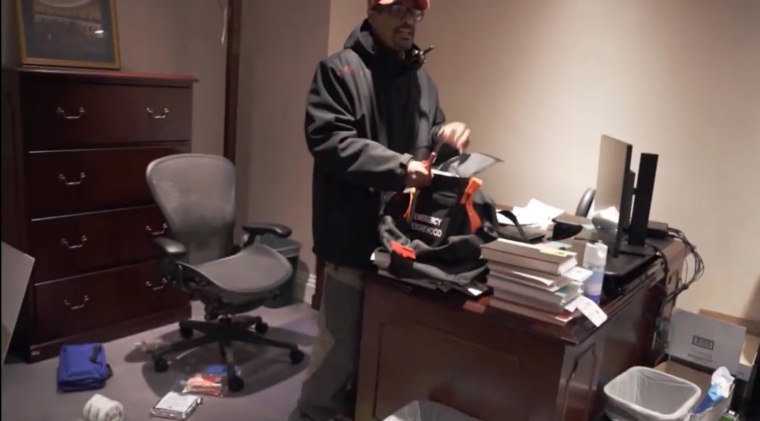 More than 1,000 people have been charged in connection with the Jan. 6 Capitol attack, and nearly 600 have pleaded guilty. Of the approximately 524 defendants who have been sentenced, according to the U.S. Attorney's Office for the District of Columbia, about 310 have been sentenced to periods of incarceration that have ranged from a few days to nearly two decades in prison. The sentences continue on a nearly daily basis: D.C. chiropractor David Walls-Kaufman was sentenced to 60 days of incarceration after admitting that he "scuffled" with officers inside the Capitol on Jan. 6, including an officer who died by suicide nine days later.
The longest sentence for a Jan. 6 defendant to date — 18 years in federal prison — went to Oath Keepers founder Stewart Rhodes, who was convicted of seditious conspiracy in November 2022. Federal prosecutors had sought a sentence of 25 years in federal prison in that case.
Two other Jan. 6 defendants who assaulted Fanone have received significant sentences. Kyle Young — a Jan. 6 rioter who was accompanied by his teenage son when he handed Rodriguez the electroshock weapon used to attack Fanone, whom Young grabbed during the attack — was sentenced to more than seven years in federal prison in September. Albuquerque Head — a Jan. 6 rioter who yelled "I got one!" when he seized Fanone and dragged him into the mob — was sentenced to 7.5 years in federal prison in October.
In addition to his violence against Fanone, Rodriguez entered an office space inside the U.S. Capitol through a broken window and urged the mob ahead. Using a pole, Rodriguez smashed out a window in the private "hideaway" office of Sen. Jim Risch, R-Idaho. Months after his arrest, Rodriguez was indicted along with two codefendants: Ed Badalian, who was found guilty of three counts in April; and a man known to online sleuths as #SwedishScarf, who has been identified by the FBI but who prosecutors have said is believed to have fled the country.
Source: https://www.nbcnews.com/politics/justice-department/jan-6-rioter-electroshocked-dc-officer-michael-fanone-sentenced-125-ye-rcna89388