Well, color me not surprised. That's what you call the cats in the bag. Garland should quickly have her removed. But he won't. That's not the style of this corrupted system of justice. You see everyone out there celebrating "We Got Him Now", will now say OMG, what now, what fresh hell is this? Well, what happened was a double trap door opened and out popped his favorite Judge who had to literally be removed at the appellant level for her blatant disregard of the law and currying favor for Trump on the last go around over these same charges.
Well, here she is again, and this time she will do even more for Trump. And of course, sleepy Merrick Garland will act dumbfounded on how to deal with her like he was before. People that don't understand the true system of Justice in this country need to be aware that the FIX IS ALWAYS IN. And that goes all the way to the top, Garland included.
Especially for not learning that last time they foolishly held a case in Florida they got their asses handed to them by this very Judge. So, by learning this lesson they should have brought the case to D.C. But they didn't, they moved the case to Florida where Trump has like 200 Judges on the payroll. The Fix Is In… It always has been and always will be for elites.
And don't give us any of that initially bullshit either. She was handed the case like before, and they knew it would end up there, and they made it that way so the drama, delays, sidebar appeals, and more delays, and more time to decide this or that question would continue. Accountability my left butt cheek.
Story below:
The summons sent to former President Donald Trump and his legal team late Thursday indicates that U.S. District Judge Aileen Cannon will be assigned to oversee his case, at least initially, according to sources briefed on the matter.
Cannon's apparent assignment would add yet another unprecedented wrinkle to a case involving the first federal charges against a former president: Trump appointed Cannon to the federal bench in 2019, meaning that, if Trump is ultimately convicted, she would be responsible for determining the sentence – which may include prison time – for the man who elevated her to the role.
A federal grand jury voted to indict Trump on at least seven federal charges late Thursday as part of an investigation into his handling of classified documents, sources familiar with the matter told ABC News. The indictment comes after more than 100 documents with classified markings were found at Trump's Mar-a-Lago resort in August 2022.
Trump has repeatedly denied any wrongdoing and claimed again late Thursday that he was innocent.
Cannon is no stranger to the case. The 42-year-old judge appointed a "special master" last year to review those materials seized from Trump's Mar-a-Lago estate. Legal experts accused Cannon of handing Trump a series of head-scratching victories over the course of those proceedings.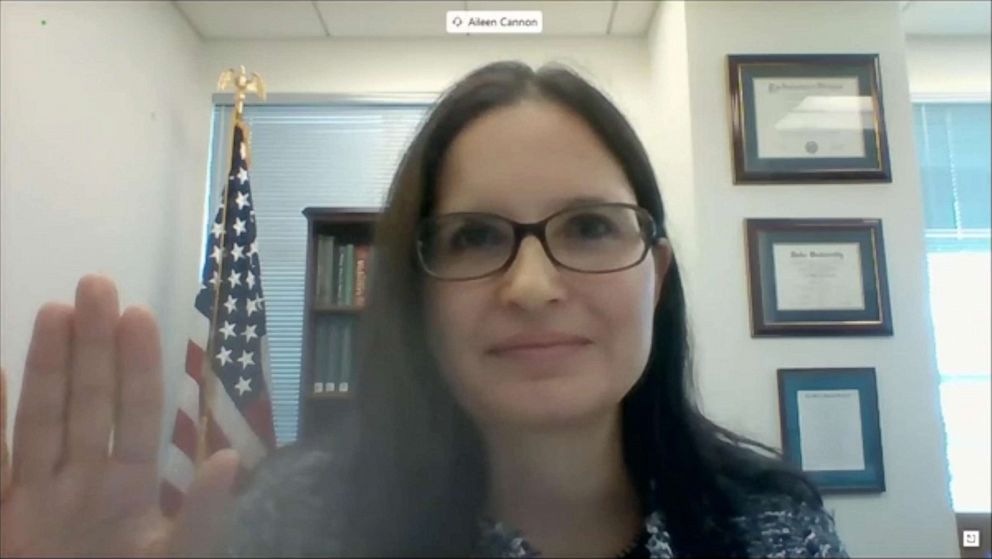 ABC News left a voicemail with Judge Cannon's chambers Friday morning seeking comment, but did not immediately receive a response.MORE: Judge rejects special master's request on seized documents, handing win to Trump
In one instance, Cannon restricted the FBI from using the seized classified documents as part of their ongoing probe until she completed her review. Cannon's order was ultimately thrown out in its entirety by an 11th Circuit Court of appeals panel, which found she overstepped in exercising her jurisdiction in the probe.MORE: Trump special master overturned by appeals court in Mar-a-Lago documents investigation
In addition to Cannon, Magistrate Judge Bruce Reinhart's name also appeared on the summons sent to Trump on Thursday, the sources said.
Reinhart, who was sworn in as a magistrate judge in 2018, is also familiar with the proceedings against Trump: he signed off on the initial search warrant of Mar-a-Lago last year and later ruled to unseal the search affidavit – decisions that made him the target of antisemitic jabs on the internet.
Judges in most federal cases are assigned at random. But the apparent nods to Cannon and Reinhart on the summons for Trump might actually reflect the fact that both have already played roles in the proceedings, experts said.
"If the case is being overseen by the same district and magistrate judges, that means the court likely considered the indictment to be 'related' to the search warrant and intentionally assigned it to those judges," former senior Justice Department national security official Brandon Van Grack told ABC News.
ABC News was provided a case number that was part of the written summons and according to the federal court filing system PACER, that case number matches a docket under "Judge AMC." Cannon's full name is Aileen Mercedes Cannon.
Apart from her own previous involvement in the investigation of Trump, Cannon's assignment would put her at the center of one of what is likely to be one of the most consequential and scrutinized criminal cases in American history.
Her rulings on everything from procedural motions to Trump's planned efforts to have the case thrown out before trial will have vast implications for the course of the case leading into an election year where Trump currently holds the status of the Republican party's front runner.
Source: Judge Aileen Cannon, a Trump appointee, initially assigned to oversee his case: Sources – ABC News (go.com)