Here we go with the oh my god, poor Putin survived an assassination attempt story. Of course, the attack, if you could call it that, had a camera pointed right at it and followed it around. Uh huh. Then it just narrowly missed the flagpole sitting atop the Kremlin and then suddenly it exploded with what appears to be one grenade worth of explosives. It caused no damage, and no one was hurt. But stories about it are Ukraine was involved, and they will pay, and it targeted Putin's residence (if he lives below a flagpole OK) and it flew 500 miles and evaded all Russian radar, but somehow a camera was very well positioned at night, and just so happened to take some nice video of the attack for all to see. Talk about flying your own drone to make some flashy headlines on Drudge.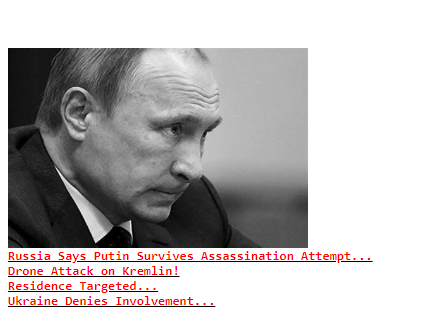 Yes, funny how the cameras were there to record it all at 3am Moscow time.
Yes, plenty of bullshit Putin shovels. Much like his puppet Trump, they are the two worst bullshit artists the modern world has ever known.