Remember all that Republican talk about how EVIL the Chinese were? Remember how they said that dems were secretly being funded by the Chinese? Remember how the entire Republican Russian right wing media claimed that the Chinese were demons and needed to be eradicated because they were funded dems? Yeah, so do I. Only in this case its the Chinese secretly supporting the Republicans and Trump through secret donor advised funding and even a SPA.
Story below:
Elections finance law complaints against an Asian day-spa operator from South Florida who allegedly funneled contributions from Chinese elites, likely including foreign nationals, to a campaign committee backing then-President Donald Trump have quietly been dismissed. The dismissal by the Federal Elections Commission came despite a staff finding that laws likely were broken and that the matter merited the FEC's full attention. The six-member panel split 3-3, as is its usual practice, on whether to proceed, with Democrats voting yes and Republicans saying no. Four votes are needed for a full investigation to occur. The dismissals were first reported by the Florida Bulldog.
Complaints against Li "Cindy" Yang, who raised campaign cash and parlayed persistence to gain access to Republican circles in Florida and get pictures taken with the then-president, were filed by Common Cause, a Washington-based watchdog group, and the Campaign Legal Center. The dismissal of those complaints came three years after the Miami Herald first revealed Yang's activities in a series of articles titled Trump Tourism.
"Attempting enforcement in these matters would not be a prudent use of agency resources," Republican Chairman Allen Dickerson and commissioners Sean Cooksey and James "Trey" Trainor III wrote in a statement dated Sept 6.
The Herald investigation found that over an 18-month period Yang published online ads targeting overseas clients — mostly from China — promoting Trump fundraisers as opportunities to mingle with the then-president, his family and other top Republicans. Her clients ranged from Chinese tech executives who took $50,000 photos with the president at a New York fundraiser for his re-election campaign to a Chinese-born American citizen and avid Trump supporter with ties to the Chinese Communist Party. The Herald also documented how Yang made contributions to Trump Victory, the president's PAC, in the name of friends and relatives, an apparent violation of campaign laws as are contributions from foreign nationals.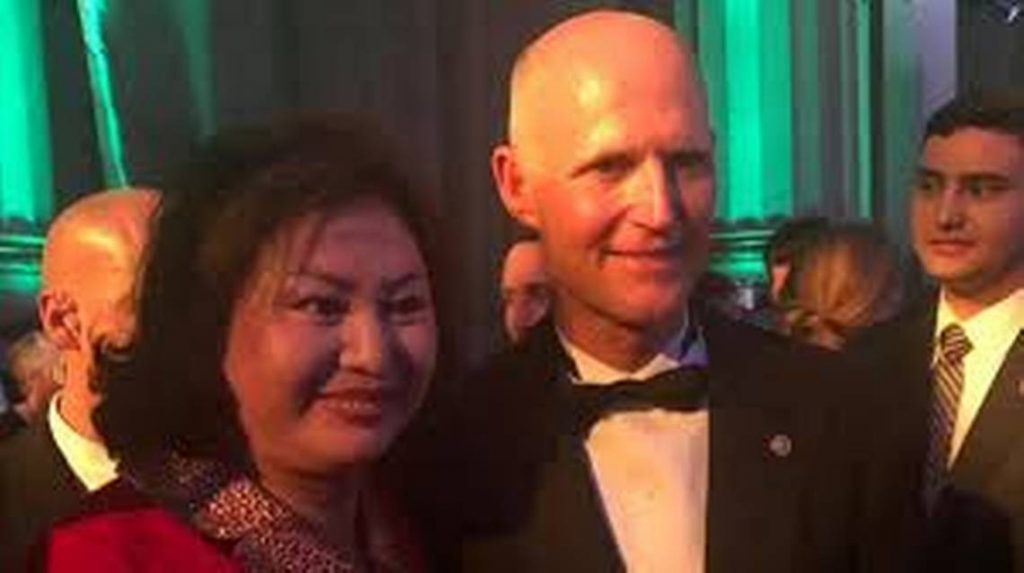 Events attended by Yang included a "Safari Night" at Trump's Mar-a-Lago Palm Beach resort, now his permanent residence and currently tangled up in a federal criminal investigation because government documents, some marked "top secret," were stored there in an insecure manner. In declining to pursue the allegations, the Republican members cited an approaching statute of limitations that "provided no time for us to sufficiently investigate." None of the dozens of complaints about Trump-related fundraising have been deemed worthy of investigation by the full commission.
The general counsel for the FEC issued a 33-page report in June presenting preliminary findings that Yang violated campaign contribution laws. That report details Yang's appearance at two high-profile fundraising events for Trump with groups of Chinese business people and the donations that preceded their attendance. The report encouraged the FEC to continue investigating whether Yang had made "excessive contributions," "contributions in the name of another" and provided "substantial assistance in the making of foreign national contributions." "The alleged violations of our campaign finance laws are egregious," Democratic commissioner Ellen Weintraub wrote in a statement. "Our commitment to pursuing foreign national matters seems now to be an empty promise — or a commitment that varies based on who benefited from the prohibited funds."
The report references reporting by the Herald in 2019, which revealed Yang's access to top Republican politicians, particularly Trump, and national security concerns prompted by her ties to groups associated with the Chinese government. Yang served on the leadership teams of the Council for the Promotion of the Peaceful Reunification of China (CPPRC) and the Miami branch of the United States Association for Science and Technology, both of which have "direct links" to the Communist Party in China, according to a report by Mother Jones. Yang came into the spotlight amid the filing of charges against Robert Kraft, owner of the New England Patriots, for visiting Asian spas that had been linked in social media posts to alleged prostitution. Yang was the founder and former owner of one of the spas, and still owned other Florida day spas unconnected to the case.
The charges against Kraft were ultimately dropped. Yang has never been charged. Yang fashioned her reputation as a political insider by building an online presence touting her connections with Trump officials and other politicians. She appeared in photos with future Gov. Ron DeSantis, a few of Trump's children, and the former president himself. She used those photos to promote her business.
As a member of the National Committee of Asian American Republicans, Yang invited a group of Chinese businessmen to a Republican National Committee event in New York City in 2017, according to reporting by the Herald. A few days before the event, Yang donated $23,500 to the political action committee Trump Victory. She then founded a new business, GY US Investments, promising to forge political connections through tourism packages offered to Chinese business people visiting the country. Yang continued to bring Chinese foreign nationals to major events, including the four guests who accompanied her to Mar-a-Lago for the Trump Victory fundraiser in March 2018, according to the FEC general counsel's report. At the event, Yang was photographed beside Trump, an opportunity that required a $50,000 contribution, which Yang stated she raised by collecting donations from friends and family. But the complaints alleged that these contributions, about $5,400 each, were actually made on behalf of people without adequate finances or a track record of donating to political candidates. That would likely be illegal.
Additionally, foreign nationals are prohibited from making any donations to a campaign, including purchasing a ticket to a fundraising event, or reimbursing others for contributions or purchases on their behalf, the report states. It's unclear whether Yang is separately under criminal investigation by the Justice Department for her alleged bundling of foreign campaign donations to Trump's presidential PAC — despite federal grand jury subpoenas issued to her and her associates after the story first broke. Two current and former federal law enforcement sources familiar with Yang's behind-the-scenes fundraising activities said they were not aware of a grand jury in South Florida or in Washington, D.C., probing her gathering of donations to his PAC. Though Yang's actions may not have warranted criminal charges, Saurav Ghosh, the Campaign Legal Center's director of federal reform, said he's disappointed that the FEC is not moving the case forward considering the severity of the allegations, especially as the FEC has previously indicated to Congress that foreign money interference in elections is one of its top priorities.
"It's a little unsatisfying for the public to not get a clearer picture of what was actually done in terms of investigating this, and potentially pursuing it," Ghosh said. "You'd like to see some accountability for what is clearly, you know, actions that violate the law." The Florida Bulldog reported that Yang, who disappeared from her South Florida home after her political activities came into view, is now living in Mexico under a different name.
Source: https://www.mcclatchydc.com/news/investigations/article266420016.html#storylink=cpy