The three men left New York on January 5, 2021 around 11:54pm, according to New York City license plate readers that captured a white Lexus registered to Lunyk.
The next day, they attended the "Stop the Steal" rally and were admitted to a "cordoned off area on the Ellipse" according to court documents, where they watched Trump and others speak.
They went inside Sen. Jeff Merkley's workspace and were seen in the background of a livestream being recorded by another Capitol rioter, social media personality Tim Gionet, known as "Baked Alaska."
A few minutes later at 3:12pm, Lunyk and his friends are spotted walking through the Capitol halls, taking photos in the Capitol crypt, and finally leaving by climbing out a window.
Nearly an hour and a half later, phone records show the mysterious nine-second call from a White House landline taking place. Lunyk's white Lexus was seen returning to New York City at approximately 8:28pm
They sent messages that included sexually violent and threatening rhetoric about former Vice President Mike Pence, House Speaker Nancy Pelosi, Rep. Alexandria Ocasio-Cortez, and former New York Gov. Andrew Cuomo
"I would've said "Our job yesterday wasn't completed. Our end goal was to brutally murder Pence and Pelosi, and sadly today they're still breathing, therefore we must come back stronger and fiercely next time around,"
"If they take my money I'm gonna shoot Pelosi," Lunyk said to Connor, Ferrigno and others on January 12, 2021.
"We raped AOC," Connor texted Lunyk, Ferrigno and others on January 8, 2021.
In November 2020, Ferrigno renames one of the Instagram group chats "The Proud Boys," before renaming it "The Proud Boy and Friends" in December and "The Oath Keepers" in January.
So who are these men in their 20's, driving a Lexus from New York city the day before to attend the Trump rally? An Irishman, an Italian, and a Ukrainian. They were serious enough to text each other threats to actually kill Mike Pence, Nancy Pelosi and others. But they left of their own accord after taking pictures, or recon pictures, inside the Capitol, and then left by way of a broken window instead of any open door where others, including themselves, came in and then left.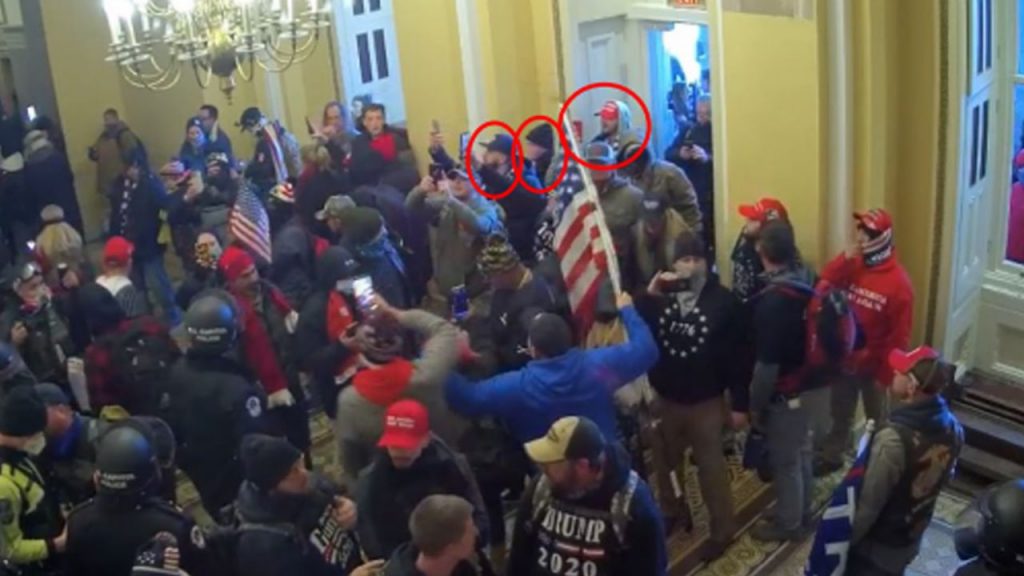 Why did they leave out of a broken window? Odd, when you have ingress and egress out of an open door that you walked through to get in, you decide on your own to not take the door you came in, and instead you go out a broken window? No cameras at the window perhaps? If so, they knew that and decided to fulfill their mission and escape back to New York pretty much unseen. Then why on their way back would the White House call them? They were already gone, so what could the White House say or tell them to do, especially in 9 seconds?
Only thing could take place that quickly was, hey, you get what you needed? Yes we did. Ok, call back at the specified drop point etc, call ends. About 9 or 10 seconds would get you that. You aren't a hillbilly or toothless dumb and dumber guy. At that point you knew how to get in, and you knew better and got out. All you did initially was take some pictures, then ended up in Jeff Merkley's office for a few minutes, and then left out a secure broken window and got back into your luxury Lexus and went straight back to New York. That in and of itself is odd. Hillbillies weren't driving Luxury Lexus cars to go to a Trump rally. They were begging for dollars to get bus tickets there.
Odder still is what were a couple of 20 somethings doing with such high level access? Why were they let into the cordoned off access area during Trump's speech? Only high level people were granted such access. They also knew to keep their mouths shut no matter what pressure was applied, as they claimed they don't remember any such call, never got such a call, and didn't know anyone or anybody in the White House.
So, not only did they get out of the Capitol properly, they got let off with no fanfare, home confinement and probation, which when completed will wipe off the conviction, and a few small fines. Despite them being in their 20's, I'd say these guys were professionals. They had serious murderous intent that the government just let slide. These guys were INTENT on murdering a Vice President of the United States as well as the Speaker of The House, Nancy Pelosi. Yet no one in government gave two shits for them?
Let me say this: You go out and claim in any text what they did and you are going to get on a watch list for life. Not only that, you are going to do some jail time, serious jail time.
You aren't going to be let off with a slap on your wrist and your record expunged with a Judge telling you hey, you guys need to further your education or this will end up on your permanent record. This isn't some Animal House bullshit here with Dean Wormer. Yet for all intents and purposes they were let off the hook after claiming they were there to commit murder on federal officials? I call bullshit on these three.
Twenty somethings or not, someone high up knew them, and knew enough about them to grant them HIGH LEVEL access to the White House and secure areas during Trump's speech, and then to clean them up after they got caught later with the Judge and prosecutors. They were there for the sole purpose of killing government officials, not some joy ride in daddy's car, so there is much more to this story than meets the eye. MUCH MORE!!!!!!!!
Source: https://edition.cnn.com/2022/09/26/politics/mysterious-phone-call-white-house-rioter-jan-6/index.html