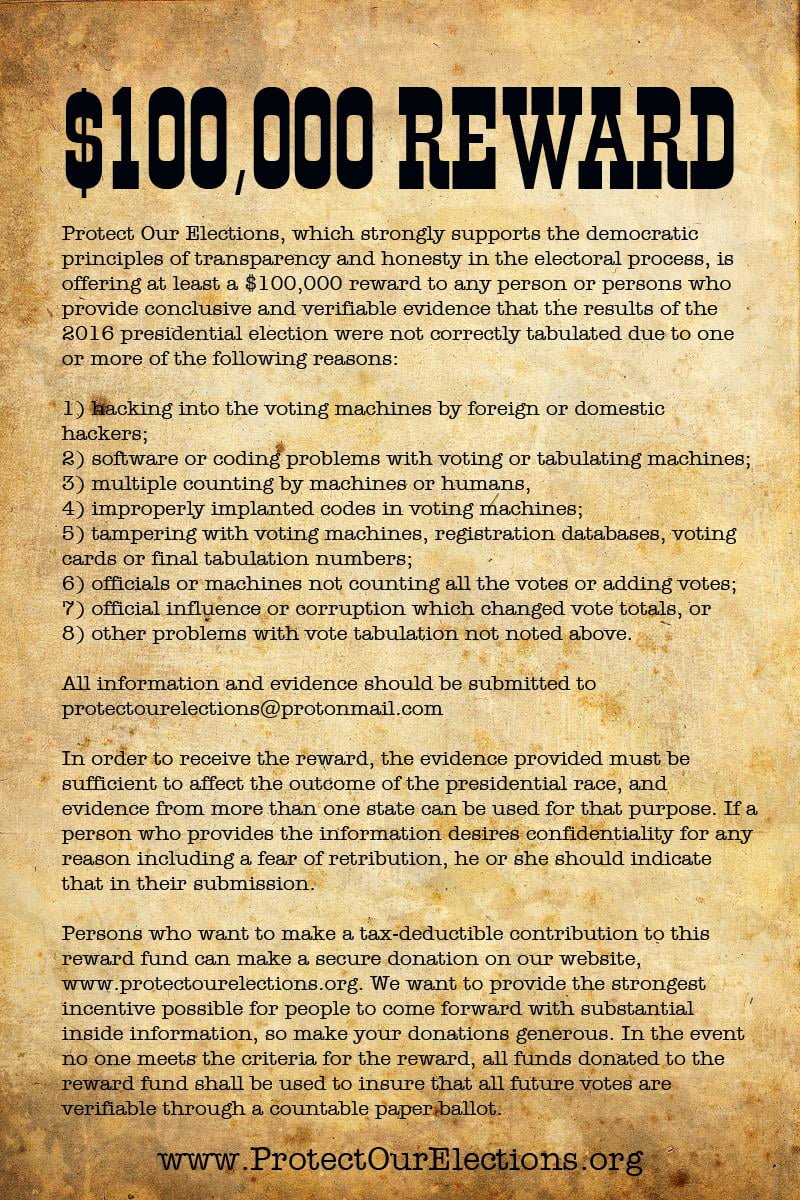 Protect Our Elections, www.ProtectOurElections.org, which strongly supports the democratic principles of transparency and honesty in the electoral process, is offering at least a $100,000 reward to any person or persons who provide conclusive and verifiable evidence that the results of the 2016 presidential election were not correctly tabulated because of one or more of the following reasons:
1) hacking into the voting machines by foreign or domestic hackers;
2) software or coding problems with voting or tabulating machines;
3) multiple counting by machines or humans,
4) improperly implanted codes in voting machines;
5) tampering with voting machines, registration databases, voting cards or final tabulation numbers;
6) officials or machines not counting all the votes or adding votes;
7) official influence or corruption which changed vote totals, or
8) other problems with vote tabulation not noted above.
All information and evidence should be submitted to protectourelections@protonmail.com
In order to receive the reward, the evidence provided must be sufficient to affect the outcome of the presidential race, and evidence from more than one state can be used for that purpose. If a person who provides the information desires confidentiality for any reason including a fear of retribution, he or she should indicate that in their submission.
Persons who want to make a tax-deductible contribution to this reward fund can make a secure donation on our website, www.protectourelections.org. We want to provide the strongest incentive possible for people to come forward with substantial inside information, so make your donations generous. In the event no one meets the criteria for the reward, all funds donated to the reward fund shall be used to insure that all future votes are verifiable through a countable paper ballot.
Donate To ProtectOurElections.org