Local Coalition of Cannabis Activist Groups Award Leading Cannabis Activists from D.C., Maryland & Virginia
MAY 14, 2015 – JTMP is part of the coalition of the local D.C., Maryland and Virginia organizations working to lift the prohibition on cannabis at the local level, and we gathered last night in Crystal City, Virginia to not only celebrate the various victories when it comes to changing the laws against cannabis this past year, but to also recognize 3 very hard-working activists and politicians with a 2015 Vanguard Award who have excelled in the field of cannabis activism. Activists from the D.C., Maryland and Virginia NORML chapters discussed the situation in their respective states, Virginia NORML reporting that people are underestimating Virginia and we may be surprised at how fast the cannabis laws can be changed in the commonwealth. Betty Alworth from Students For Sensible Drug Policy was the Keynote Speaker, and gave a wonderful speech on the direction we ned to go in 2016. If we engage politicians, we can change the insane cannabis laws.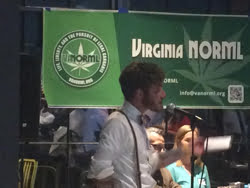 Recognized and given a 2015 Vanguard Award was Adam Eidinger, who almost singlehandedly got Initiative 71 passed in D.C. and in essence lifted the prohibition on cannabis in the District of Columbia. In D.C. (not the "federal enclave") one can now posses up to 2 ounces at home, posses 1 ounce upon your person in public, consume at home, give cannabis away freely, and even grow up to 6 plants at home. Also, the D.C. medical cannabis program is 4 years strong and running well. MD Delegate Curt Anderson was recognized and awarded for his great work in Maryland, where cannabis is decriminalized up to 10 grams, but Delegate Anderson informed us that on October 1, 2015 that will be raised to 20 grams. The president of the Maryland NORML chapter Judy Pentz talked about how they passed 11 bills relating to cannabis this year, and will continue to work hard in Annapolis. A constant theme all night was that activists are reporting that politicians at the local level are getting slammed with tons of emails on cannabis, and so we are getting heard and getting attention.
Check out Marijuana Policy Coalition of Maryland page here, and join us in eating sensible reform when it comes to cannabis laws. Work locally! Share your thoughts on out JTMP Facebook Page.