Billy Currington Chickens Out and Pulls Out After Pressure From Gun Nuts
April 18, 2015 – Tim McGraw will be playing a benefit show for the non-profit Sandy Hook Promise that educates the public on gun safety and mental illness, after the terrible Sandy Hook Massacre where a sicko shredded 23 children with a military-type assault rifle. Tim McGraw is a gun-rights supporter and even owns a gun, but he is like many people and believes the world changed forever after the Sandy Hook Massacre. We need to try to assure that type of horrible tragedy never happens again.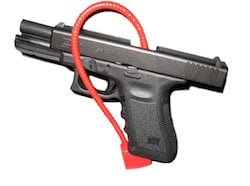 But of course the Gun Nut World couldn't stand for that. According to them, we cannot even broach the subject on guns, and they of course mistakenly took Sandy Hook Promise as a group trying to "take their guns away!" and completely freaked out and took to social media to put pressure on Tim McGraw, and the two opening acts Billy Currington and Chase Bryant, to not play the show. After a fierce storm on social media, Tim McGraw and Chase Bryant stood tall and stuck to their guns and will play the show (pun intended) but Currington turned chickenshit and pulled out of the show. Currington decided to stand with the gun nuts and not the children massacred on that horrible day. JTMP urges our supporters to thank Tim McGraw and Chase Bryant for standing with the kids and staying true to their principles despite tremendous pressure, and I will never listen to a Billy Currington song until he changes his mind.
If you want to read more about this, read Tim's Press Release HERE, and check out a good article by Andrew Leahey on Rolling Stone here. Please support and find out more about Sandy Hook Promise HERE. Watch Tim McGraw in a JTMP video of him playing "My Old Friend" at a Red Cross benefit show after the terrible storms in the south back in 2011 below. Tim McGraw and his wife Faith Hill do a lot of charity work and are great people. Buy their albums and support them! What do you think? Start a discussion on our JTMP Facebook Page HERE.
[youtube width="420″ height="237″]https://youtu.be/EJpu_tjmOIA[/youtube]