Most Musicians Have Always Gone Without Health Insurance
JAN 28, 2015 –  Up till now, most musicians have always just gone without health insurance, because individual health insurance plans were very expensive. Like many Americans, they would use the emergency rooms, which is of course more expensive and drives up healthcare costs. The Affordable Care Act (or "Obamacare", or "ACA") was designed to bend the cost curve down, and make healthcare affordable, even for that musician that drops his amp on his foot and breaks his toe. We all need healthcare eventually at some point in our lives, musicians are no exception. So what are musicians doing to comply with the new law? Of course it all depends on what state you live in. If you are a musician in DC and can show that your earnings are below 200% of the poverty level using a Form 1099 or pay stubs you will qualify for DC Medicaid and everything is fine. Trusted Health Plan, the for-profit company that DC Medicaid is chartered out to, can also sell you a very inexpensive health insurance plan possibly with subsidies through the DC "state" healthcare exchange if you don't qualify for DC Medicaid. If you are a musician in Texas, you are not in such good shape. Your Governor Rick Perry rejected the Medicaid expansion funds in your state in an attempt by Republican lawmakers to do an end-around Congress, the Supreme Court and the law to thwart and subvert the ACA to try and "kill" the law. In Texas, even if you are below 200% of the poverty level you cannot get Medicaid, you are forced by the Rickster to go only through the federal healthcare exchange marketplace and pay for health insurance with your own money. Your choices are to register to vote and vote someone else in, or you have to move to another "United" state.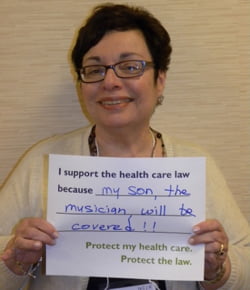 There have been many organizations popping up to help musicians and artists get informed and educated on the ACA, and how to navigate the system and get good, affordable health insurance. For instance in New Orleans one of the biggest organizations leading the charge on this is the New Orleans Musicians' Clinic and Assistance Foundation (NOMAF) They just held another workshop this month to explain the options available for health insurance coverage, with emphasis on how to use a Form 1099 from the IRS to report your income, a form used by self-employed people to report cash income. Musicians of course are somewhat like wait staff, and should manually record their cash income they get from "cover charges" and other monies received from the bars or establishments you worked at throughout the year. In many cases musicians can use that form to show they qualify for Medicaid or subsidies. NOMAF has also formed a clinic in New Orleans called the New Orleans Musicians' Clinic.
In some states and in some circumstances, musicians have actually benefited greatly from Obamacare, finally being able to enroll in Medicaid, get a subsidized plan, or even pay for a inexpensive low-level plan. Soumya Karlamangla of the Los Angeles Times has an article out showing how artists are using the Covered California website to get affordable and very inexpensive health insurance plans and hundreds of thousands of people in the LA area, known for it's high artist population, has signed up for health care insurance through that state's health insurance marketplace. California accepted the Medicaid Expansion funds too, so many starving musicians in California are now covered. If you want that too, you have to take that up with your state legislature. Read the full piece on LATimes.com here. Jeff Rouner of Gambit.com has a nice lengthy article titled, "How Will Obamacare Affect Musicians?", even interviewing musicians on what they are doing to comply with the new law requiring everyone to have health insurance. Lee Alexander, a Houston musician, said, "had the ACA been around when I was in my 20s [and] an unencumbered artist, yes, I would have formed a band a hit the road, no question." Lee got a plan that made his health insurance premium drop by 60%, and his max out-of-pocket went from $6,000 to $500. Jeff also interviews a punk rocker who has members in the band who are libertarian and conservative, but at least agree on a human side that people, ALL people, need affordable, quality healthcare. Read the  "How Will Obamacare Affect Musicians?" piece by Jeff Rouner on Gambit.com here. On TheNewOrleansAdvocate.com John Wirt writes about Shreveport singer-songwriter Victoria Williams who benefited from artists like Neil Young and others in a benefit concert to help her treat her multiple sclerosis. Victoria tells John Wirt  that the ACA helped her get medication to treat her MS that she previously couldn't afford. "I was off of it because I don't have health insurance.. It was like $800 a month. Now the same thing that used to cost so much is $1 a month. I love 'Obamacare'. I don't understand why anybody could not want it." Watch Victoria sing a powerful rendition of Sam Cooke's "Change is Gonna Come" below. JTMP reminds our supporters to register to vote, get informed on the ACA and issues, and vote for politicians who support the ACA and musicians. JTMP also reminds everyone too that the real goal and the real solution is MEDICARE FOR ALL.
[youtube width="420″ height="237″]http://youtu.be/1IyHdFMAptg[/youtube]