BRAD PITT'S WORK AFTER HURRICANE KATRINA BRANCHES OUT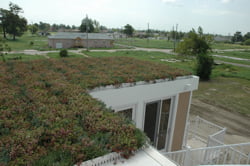 JULY 9, 2014 – After Hurricane Katrina, Brad Pitt felt a need to help the New Orleans Lower 9th Ward with desperately needed housing, and he went to work forming a non-profit called "Make It Right" which erected LEED certified sustainable homes that are also cool in design. Their work has now gone on across America to help people in need of housing, from helping veterans in New Jersey to building sustainable homes in Montana for Native Americans. These houses are LEED Platinum certified and they aim to transform the whole home construction industry from drafting board, to factory, to job site. The houses are inspired and designed with the "Cradle to Cradle" mindset created by Dr. Michael Braungart which is brilliant. The mindset believes when it comes to our approach to design and science and is characterized by guidelines to go by. Are the materials defined as safe for use and reuse? Are they designed for easy disassembly and recovery? Does it use renewable energy? Does it maintain and enhance water quality? Does it honor social fairness and human dignity? Is the work continuous and aspirational? The answers of course should be YES to all those questions in order for us to create more sustainable homes that regular working people can actually afford.
Read more about these cool houses on the Make it Right website here, and learn more about "Cradle to Cradle" in a TED talk from Dr. Michael Braungart below.