CITIZENS PUSH TO ADOPT PHYSICIAN CONDITION CONTROLLED LIST
JUNE 12, 2014 – The DC Council held a meeting today to discuss and consider expanding the DC Medical Marijuana Program significantly. Many citizens have been complaining that the list of conditions that would qualify a DC citizen to get safe access to medical cannabis was too short, it only covered 5-6 conditions. The DC Council did add about 6 more conditions recently, but DC citizens decided to abandon the piecemeal approach of slowly adding conditions to a list and pressed the DC Council to switch to a "Physician Condition Controlled List" format. In other words, instead of having to have a specific disease or condition on a static list, doctors will make the determination which patient could benefit from medical cannabis on a case-by-case basis, not the government. Bill B20-766, The Medical Marijuana Expansion Amendment Act of 2014, was introduced by ALL 13 city council members and proposes to do just that. Councilmember Tommy Wells who ran the meeting seemed very receptive to it, as did other Councilmembers Grosso and Alexander.  Councilmember Yvette Alexander read statistics for the DC Medical Marijuana Program, saying there are about 400 patients currently enrolled. She went over the percentages of what conditions are being applied for, with muscle spasm issues being the condition most applied for, about 50%.  She said only about 100 doctors have requested recommendation forms since the program was enacted in 2013, and many feel the reason for the low amount of doctors participating in the DC Medical Marijuana Program is that they are "afraid" of doing it. Doctors feel it is "not really legal" and that the medical board may yank their license. Dr. Garcia did say the DOH was educating doctors about the program, and trying to assure them it is safe and legal for them to recommend it. However, the Act proposes an "automatic referral" to the medical review board if the doctor makes over 250 recommendations, to deter some quack doctor "selling pot". Many pro-medical cannabis activists are against this because doctors are already afraid enough. Plus, what happens if a suffering or dying patient comes in and you just wrote your 250th recommendation? Let the patient suffer and die? We first heard from the DC Department of Health Director Dr. Garcia, and he announced that both doctors and patients can now apply online digitally on the DOH Medical Marijuana Program Website as of this week, which was great news. Dr. Garcia seemed very receptive and fully supported moving to a "Physician's Condition Controlled List", but was lukewarm on allowing cultivators to go from 95 plants to 500 which was the other bill discussed.
The other bill discussed was B20-678, The Medical Marijuana Plant Cultivation Amendment Act of 2014, which would change the limit on plants a cultivator could grow from 95 plants to 500. When the program was first set up, the limit on plants was set to 95 as to not trigger the federal government's Mandatory Minimum Sentence Guideline of 7 years behind bars for growing more than 100 plants. Thankfully no jack-booted thugs ever knocked down the doors to any cultivator, and the US House of Representatives just passed a bill forbidding the DOJ to use federal funds to interfere with state's medical marijuana laws, so those days are hopefully over. That bill is on the way to the Senate. That bill was mentioned by 2 council members as to why they feel it is time to maybe raise the cap on plants. One Councilmember raised a concern that there would be a surplus and the government would have to dispose of it, but Councilmember Grosso later commented that the cultivator wouldn't make a foolhardy business decision, and they wouldn't grow plants they could not sell. It was also pointed out that the cultivator doesn't HAVE to grow 500 plants, they can grow only 250 if they want. This bill has only 5 sponsors, but has a good chance on passing.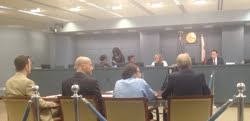 Several witnesses spoke out in support of both bills, from a DC citizen suffering from  a condition that is not on the list (endometriosis), to a man who has a young child suffering from frequent epileptic seizures which medical cannabis oil could help, but the low amount of 95 plants that cultivators have been restricted to prevents the new "CBD only" strains like Charlotte's Web from being grown and offered in DC. A DC Medical Marijuana patient also gave testimony on how the program is going well for him and how he has been benefitting from the program for 9 months, and that he was able to get off of acetaminophen (Tylenol) and Tramadol which not only have bad side effects but can be fatal. The patient said medical cannabis has significantly changed his life for the better, but wants it expanded to cover more patients besides him. He added that using medical cannabis has actually lowered his chance for drug abuse and relapse, because he can now go to a pharmacy to get medical cannabis instead of a back alley where all sorts of illegal drugs are sold. Not to mention it is safer and he doesn't get knifed and mugged trying to get his medicine. We also heard from a businessman running one of the dispensaries, and pro-medical cannabis activists both local and out of state. I  give both bills very high chances of passing. The DC Council seemed to hint that both bills would be fast-tracked, so we could possibly see a vote next week. Check back on JTMP for updates on this. Share and discuss on Facebook!