jtmp
---
FEB 5, 2013 - Teabagger and gun nut mouthpiece (and has-been musician) Ted Nugent told Piers Morgan in an interview that he wants Obama and the government to "just leave us the hell alone". Apparently, we have to solve our gun safety problem with out inconveniencing gun owners in any way shape or form. I don't know if we could do that Ted. Click the link below to watch the full video on CNN.com.
Want to comment? Please visit our JTMP Facebook page and leave a comment, and maybe start a discussion!
JAN 24, 2013 - Sir Paul McCartney, has thrown his support behind the decriminalisation (or decriminalization as we Americans spell it) of marijuana use. He says, "People are smoking pot anyway and to make them into criminals is wrong." He has joined the campaign of the MarijuanaMajority.com campaign; where activists, celebrities, musicians and more are all coming together to try and stop the insane marijuana drug war that has ruined people's lives. If you want to learn more and join their campaign, check out their website here. JTMP urges you to contact your elected officials both state and federal and tell them to stop the war on drugs, which is an unjust war on the poor. (photo credit: CC/Jim Summaria)
JAN 24, 2012 - Taylor Swift met with cancer patient Kayla, after her parents and friends started an Internet drive to get the activist musician to meet with her. They started a Twitter drive called #OperationGetKaylaToMeetTaylorSwift, and then set up a web page called TeamKaylaKinCannon.org, to tell her story and push for a meeting with the young artist. Taylor caught wind of it, and Kayla's dream came true when Ms. Swift visited her, and they said it was no quick meet-and-greet, she stayed for hours, ate lunch, gave presents, and even signed pictures. The family was moved and happily surprised and impressed with her great quality as a person. Kayla's dad said, "She is the sweetest, most down to earth person I have ever met!" Read more on Today.com here, and check out Kayla's story here. (photo credit: TeamKaylaKinCannon.org)
JAN 23, 2012 - Outspoken rapper activist Lupe Fiasco, started a controversy and debate, after his set "ended early" or he was "silenced and kicked off stage" depending on who you talk to at a recent presidential inauguration event held by Startup RockOn. At first it did seem a free speech issue, but after I looked into it deeper, it seems more that they let him have free speech for 20 to 30 minutes, but the staff saw and heard the negative reaction by the crowd to the jarring and repetitive rap, and asked him to move on to another song. It seems to me at that point Lupe got confrontational, and decided to keep on with the rant. The organizers then cut his mike and dimmed the lights, and he refused to leave the stage; forcing the organizers to physically escort him off stage. Even the organizers, Startup RockOn said in a statement, "We are staunch supporters of free speech, and free political speech. This was not about his opinions. Instead, after a bizarrely repetitive, jarring performance that left the crowd vocally dissatisfied, organizers decided to move on to the next act." Many though are screaming his free speech rights were totally violated. Watch a video by NowThisNews.com of a few clips of his performance below and see for yourself.
What's your reaction to this? Head on over to our Facebook page and join the discussion! http;//www.facebook.com/justicethroughmusic
JAN 23, 2013 - In an interview for Guns.com, has-been musician Ted Nugent spouted off about President Barack Obama's recent executive orders and measures proposed for gun safety, saying Obama is "attempting to re-implement the tyranny of King George that we escaped from in 1776, and if you want another Concord Bridge, I've got a few buddies." He also added, "He is an evil, dangerous man who hates America and hates freedom. And we need to fix this as soon as possible." It seems to me he is implying and supporting armed rebellion if the federal government enacts gun safety measures. Someone needs to school Ted Nugent and these Teabaggers on the Whiskey Rebellion, where George Washington led troops in the field to establish the power of the federal government; I guess Ted Nugent wants to have that battle all over again. Watch the video interview by Guns.com below.
JAN 21, 2013 - Kelly Clarkson sang the full version of "My Country 'tis of Thee" at President Barack Obama's second inauguration, check out the video below.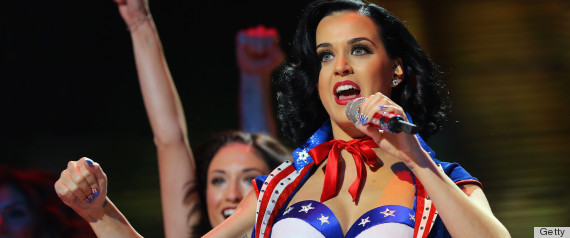 JAN 21, 2013 - The President and the first lady, Michelle Obama, held a concert for military kids at the Washington Convention Center yesterday. Katy Perry, Usher and more were there to rock for the kids of military families, who go through so much with their father or mother stationed overseas for long periods of time. See some pics and read more about the concert on HuffPo here. Check out a video clip from vnewsvevo on Youtube below. (photo credit:HuffPo)
JAN 21, 2013 - Raw Story has a great post up about what JTMP blogged a few months back about, "Artists Against Fracking", and how Yoko and Sean Lennon are getting involved in the fight against fracking. Yoko comments in the article, "It's not just for me, but for New York State and New York City as well. But also when we lose this game we're losing not just for New York State but for the United States and for Britain. I'm getting letters from Britain saying, 'Yoko, please do something, they're starting to frack here.'" Read more on RawStory here.
(photo credit: RawStory)
JAN 8, 2013 - Country-folk artist Adrienne Young made a PSA music video from her song, "Hills and Hollers" 4 years ago to show support for the Virginia Wildlife Action Plan to help protect and preserve wildlife from over-development, and she asks that people be aware of wildlife, and the need to protect it for future generations. Like she says, once we destroy it, we can't get it back. Check out the cool song and PSA below. (photo credit: CC/Artaxerxes)
JAN 8, 2013 - A group of artists have made a PSA for a new organization formed after the Newtown tragedy to try and help stop gun violence. The new organization is called "Demand A Plan" and demand our leaders find a way to stop gun violence that has been plaguing our country. Their 3 main demands are background checks for every gun purchase, a ban on assault weapons and high capacity magazines; and finally they want to make it a federal crime to sell guns across state lines and go after "straw purchasers" that buy guns and then sell them illegally in another state. Watch the PSA below, and check out their website DemandAPlan.org to sign their petition that demands a plan from a leaders to lead us away from gun violence.