The Guardian: Iran jails director Jafar Panahi and stops him making films for 20 years
Dec 20, 2010- The acclaimed Iranian film-maker Jafar Panahi was sentenced to six years in prison today, and banned from directing and producing films for the next 20 years, his lawyer said.
Panahi, an outspoken supporter of Iran's opposition green movement, was convicted of colluding in gathering and making propaganda against the regime, Farideh Gheyrat told the Iranian state news agency, ISNA.
"He is therefore sentenced to six years in prison and also he is banned for 20 years from making any films, writing any scripts, travelling abroad and also giving any interviews to the media including foreign and domestic news organisations," she said. Gheyrat said she would appeal against the conviction.
Panahi won the Camera d'Or at the Cannes film festival in 1995 for his debut feature, The White Balloon, and the Golden Lion at Venice for his 2000 drama, The Circle. His other films include Crimson Gold and Offside. He is highly regarded around the world but his films are banned at home.
Hamid Dabashi, a professor of Iranian studies at Columbia University, told the Guardian the sentence showed Iran's leaders could not tolerate the arts. "This is a catastrophe for Iran's cinema," he said. "Panahi is now exactly in the most creative phase of his life and by silencing him at this sensitive time, they are killing his art and talent.
Dabashi said: "What Iran is doing with the artists, is exactly similar to what Taliban did in Afghanistan. This is exactly like bombing Buddha statues by the Taliban, Iran is doing the same with its artists."
Permalink
---
Newsweek: The Regime's New Dread in Iran
Dec 19, 2010- Roozbeh, a 26-year-old university student in Tehran, considers himself a revolutionary. Never mind that he rarely leaves his room at his mother's house. "Many people of my generation hate this regime," he tells NEWSWEEK via Skype, asking that his last name be kept private. He says he spends 14 hours a day dodging government-imposed firewalls to share news with other Iranian cyberactivists inside and outside Iran. His strategy resonates with leaders of the country's opposition Green Movement, who are now shunning street protests in favor of online organizing.
Roozbeh scares Iran's current rulers. In public they deny it, of course, dismissing him and his allies as "losers with no significant power base," in the words of Iran's leader, Ayatollah Ali Khamenei. But the mockery rings false: in fact, the Revolutionary Guards have grown worried enough to establish a Permanent Soft War Secretariat, dedicated to plugging what the Guards' commander, Mohammad Ali Jafari, calls "the loopholes in our soft defense mechanism." The massive demonstrations of 2009 have migrated behind closed doors, unseen by pro-regime Basij thugs, where activists spread the word of resistance via instant message, satellite television, and what authorities fear most: social networking.
Their vehicle of choice is Facebook, as evidenced by the Revolutionary Guards–produced cautionary TV program A Monster Called Facebook, in which founder Mark Zuckerberg is depicted as a Zionist spy. In coming months, the Guards are also expected to beef up their new Facebook Infiltration Task Force, which prowls the site hunting for critics of the regime and blocking ordinary Iranians' access. It's become almost routine for Iranian travelers at the Tehran airport to be stopped for questioning about their use of the world's largest social-networking site.
Permalink
---
Iran's Women: Canaries in the Coal Mine
By Azar Nafisi- December 9, 2010: (NOTE: Since this post was written, Sakineh Ashtiani has reportedly been freed.)
The battle for emancipation is part of a proud tradition that will shape the future of the regime and Islam itself.
Last month, Mohammad Javad Larijani, the head of the Iranian High Council for Human Rights, in New York for a UN session, was asked by Fareed Zakaria on CNN about stoning for adultery and the case of Sakineh Ashtiani whose death sentence by stoning has attracted worldwide outrage.
Mr. Larijani, who has condemned the West for its "fixation on death by stoning," replied that stoning in Iran is implemented only in cases of "extreme" adultery, leaving us to wonder about the difference between extreme and moderate adultery. He also claimed that cruelty is culturally relative, criticizing the West, where people weep over puppies while their governments kill children. Thus in one stroke, Mr. Larijani obliterated Iran's 3,000-year history and culture. He also managed to denigrate the very religion that he and the regime claim to represent, reducing Islam to a set of barbaric laws.
In the past 30 years, officials of the Iranian regime and its apologists have labeled criticism, especially with regard to women's rights, as anti-Islamic and pro-Western, justifying its brutalities by ascribing them to Islam and Iran's culture. It is ironic that Mr. Larijani makes such remarks about Ms. Ashtiani, a 42-year-old mother of two, who is hardly Westernized or in any sense political. Like most victims of the stoning law, she comes from a poor traditional and religious background, one that the regime claims to defend.
This is a good time to ask apologists for the Islamic regime, who degrades Islam? Who imposes stoning, forced marriage of underage girls and flogging for not wearing the veil? Do such practices represent Iran's ancient history and culture, its ethnic and religious diversity? Its centuries of sensual and subversive poetry? What makes the guardians of the Islamic Republic more Muslim or more Iranian than others? And is not the claim that everything related to freedom of expression and religion, or the rights of women and minorities, belongs to Western culture an insult to Islam?
From its very inception, the Islamic regime used Islam as a political and ideological tool. Human rights and freedoms, especially those of women and minorities, became signs of Western "cultural invasion." The first law the regime abrogated was one that protected women at home and at work. In those uncertain first months after the revolution, women staged numerous protests. On March 8, 1979, about 100,000, according to reports, poured into the streets of Tehran to protest against Ayatollah Khomeini's edict on mandatory wearing of the veil, chanting: "Human rights are neither Western nor Eastern, human rights are global." They were attacked by vigilantes with acid, scissors, knives and stones, but forced the Ayatollah to wait to implement his edict.
30 years later, in the 2009 protests against the rigged elections, Iranian women recaptured their spirit. It was the images of women at the forefront of these protests that attracted attention. They were young and old, traditional and modern, secular and religious, yet they presented a united front. It became clear that the laws on women's rights were in the interests of neither orthodox religious women nor secular modern ones.
FULL STORY HERE:
Permalink
---
Beginnings of a Power Struggle in Iran?
Iranian Parliament Wanted to Impeach Ahmadinejad

Nov. 22, 2010- Iran's parliament revealed it planned to impeach President Mahmoud Ahmadinejad but refrained under orders from Supreme Leader Ayatollah Ali Khamenei, exposing a deepening division within the regime.
Lawmakers also launched a new petition to bring a debate on the president's impeachment, conservative newspapers reported Monday.
The reports of challenges to Mr. Ahmadinejad were intended as retorts to a powerful body of clerics that urged Mr. Khamenei to curb the parliament's authority and give greater clout to the president.
In a report released Sunday and discussed in parliament Monday, four prominent lawmakers laid out the most extensive public criticism of Mr. Ahmadinejad to date.
They accused him and his government of 14 counts of violating the law, often by acting without the approval of the legislature. Charges include illegally importing gasoline and oil, failing to provide budgetary transparency and withdrawing millions of dollars from Iran's foreign reserve fund without getting parliament's approval.
"The president and his cabinet must be held accountable in front of the parliament," the report stated. "A lack of transparency and the accumulation of legal violations by the government is harming the regime."The moves against Mr. Ahmadinejad come as the regime faces domestic pressure over his plans to gradually eliminate subsidies for fuel, food and utilities from an economy strained by a string of international sanctions over Tehran's controversial nuclear program.
Permalink
---
Women Cyclists Face Jail, Warns Iranian Police Chief
The new police chief of the Iranian city of Isfahan has warned that women caught cycling in public, which is permissible for men, will be "severely prosecuted".
Hassan Karami added that women are also forbidden to roller-skate or play volleyball in public.
Iran's hardliners regard what women wear or how they behave outside their homes as a barometer of the regime's grip on power. The authorities fear that if they ease up on enforcing public "modesty", they will look weak.
Some lawyers say that "crimes" such as cycling cannot be prosecuted because there is no defined penalty for them under Iran's legal code.
But Iran's police do not need the case to go to court to intimidate women bicycle riders.
"Those caught are usually punished for other things like flouting the dress code or being in the company of men they are not related to," said an analyst in Tehran, who declined to be named because of the sensitivity of the subject. "They might be arrested and held for a few days and then released after pledging in writing not to repeat the offence."
Permalink
---
Nokia Complicit With Iranian Government Surveillance of Dissidents
October 25, 2010- And here we thought telecom companies only aided the American government in domestic spying. In an October 13th article, Electronic Frontiers Foundation reported that Nokia had provoded the Iranian state-owned telecommunications provider with Intelligence Soulutions, a powerful mass-surveillance product, which the Revolutionary Guards and Iranian Secret Police have used to track and capture people suspected of being dissidents. This is something of a bitter irony, considering the role cellular phones have pleyed in drawing the word's attention to the iranian Green movement, as well as the plight of the Iranian people. Lawsuits have been filed against the Nokia Siemens Network for their part in aiding and abetting the Iranian government's human rights abuses, but Nokia is claiming that because it is a corporation, it should not be held accountable for how its products are used.
Since it seems entirely possible that Nokia will not be be held legally accountable, the next best thing would be for anyone who supports the Iranian people to boycott Nokia products, and warn their friends and relatives in Iran of this new danger.
Permalink
---
Families of Killed Detainees Call for Prosecution of Senior Officials
The families of the three Iranian detainees who were killed under torture in Kahrizak Detention Centre announced that rather than calling for the execution of the two guards who have been sentenced to death in these crimes, they call for the prosecution of the true perpetrators of the events.

Mehr news agency reports that an announcement has been issued by the families of Mohsen Ruholamini, Mohammad Kamrani and Amir Javadifar, the three victims who died in Kahrizak in the post-election crackdown on election protesters.

The families write that they have received two kinds of treatment in the past year: "a significant section of the officials" have been very "supportive" but "a small but powerful group has been after covering up this horrendous crime and relieving the true perpetrators from the talons of justice."
Permalink
---
Report: Iran's 'blogfather' jailed for 19 years
TEHRAN, Iran — A well-known Canadian-Iranian blogger has been sentenced to more than 19 years in prison, an Iranian news website reported Tuesday.
The conservative website, Mashreghnews.ir, which is close to Iran's presidential office, said Hossein Derakhshan was convicted on charges of cooperation with hostile countries, spreading propaganda against the ruling establishment, promotion of counterrevolutionary groups and insulting Islamic thoughts and religious figures.
Permalink
---
Fighting Ahmadinejad: Where movement in Iran stands:
CNN: September 23, 2010- Iran's President, Mahmoud Ahmadinejad, will address world leaders at the United Nations General Assembly later today.
When he spoke at last year's meeting, he launched into an attack against the United States, Israel and the West while, back in Iran, the pro-government Revolutionary Guard cracked down on pro-reform demonstrators. During elections, the Green Movement gained momentum, and for a time it seemed like supporters with the use of Twitter could topple Ahmadinejad.
But this year, Ahmadinejad may dial down the rhetoric a notch as Iran comes under increasing pressure from world powers to end their nuclear program. The United Nations Security Council imposed a new round of sanctions in June and the Council members – China, France, Russia, the United Kingdom and the United States – have renewed efforts to bring Iran back to the negotiating table.
Permalink
---
Shiva Nazar Ahari Sentenced to 6 Years In Prison

September 22, 2010- Iranian human rights advocate Shiva Nazar Ahari has been sentenced to 6 years in prison by the Iranian Revolutionary Court. Additionally, she has been sentenced to 74 lashes or a $400 fine. Shiva was found guilty on all charges, including moharebeh ("rebellion against God"), which carries a maximum penalty of death.
Permalink
---
Jailed Blogger Freed on $500,000 Bail
Sept 13, 2010: Jailed Iranian blogger and human rights activist Shiva Nazar Ahari has been released on $500,000 bond. She is awaiting sentencing following her trial on September 4th, but for the present she is free after 266 days in prison.
In her September 4th trial she faced charges of "assembly and collusion to commit a crime", "propaganda against the regime", "disrupting the public order", and most seriously, "moharebeh" (enmity with God), which carries a possible death sentence. The trial took place in branch 26 of the Revolutionary Court with presiding judge Pir-Abassi.
Worldwide protests have been staged calluing for her release.
Permalink
---
Iraninan Protesters Demand the Release of Shiva Nazar Ahari
September 3rd, 2010- On the eve of Shiva Nazar Ahari's trial, in which she potentially faces the death penalty, Iranian-American protesters gathered outside the Iranian Interests Section in Washington DC. On the previous day, representatives of the Iranian Government refused to accept a petition from the protesters demanding Shiva's release.
For more on Shiva's case click HERE
Permalink
---
Shiva Nazar Ahari's Lawyer Concerned About Her Verdict on the Charge of Moharebeh
Shiva Nazar Ahari's lawyer, Mohammad Sharif, has expressed concern about his client's upcoming trial considering the heavy charge of moharebeh (enmity with God) in her case. "Shiva Nazar Ahari's case is being reviewed in the same branch that reviewed Badrolssadat Mofidi's case. I believe the ruling in Ms. Mofidi's case to be illegal and therefore am seriously concerned about the court's potential ruling, considering the fact that my client's initial charge is moharebeh," he told the International Campaign for Human Rights in Iran.
According to Sharif, one of his concerns is that even though the presiding judge for Branch 26 of the Revolutionary Courts is a known judge, another judge appeared at Ms. Mofidi's trial. "My client has been informed of three charges. One of her charges is moharebeh, enmity with God, the subject of Article 186. The other charge is assembly and collusion to commit a crime, the subject of Article 610. Her final charge is propagating against the regime, based on Article 500," said Sharif. "I have read Shiva Nazar Ahari's case file. I have written my defense bill and have submitted it," he added.
Permalink
---
Baha'i woman recalls imprisonment in Iran
CNN Belief Blog- Minoo Vosough can still hear the guards' boots marching down the cold hallways of Iran's Gohardasht prison. The screams of other inmates burn her ears.
She was arrested in Tehran more than 25 years ago - beaten, interrogated and thrown into solitary confinement. Once a week, she was taken out for a shower. She could tell if it was bright or overcast only by the small window high up in her cell. She cherished the chirping of birds outside.
The Iranian regime accused Vosough of espionage, though she was never charged or afforded legal representation. Her crime in the Islamic republic, she says, was - and still is - her faith.
She is a Baha'i
This month, the spotlight again fell on Iran's 300,000-strong Baha'i community as seven national leaders were sentenced to 20 years each in prison for espionage, propaganda against the Islamic republic and the establishment of an illegal administration.
Permalink
---
Ashtiani Outrage Spurs Iran to Commute Stoning Sentences to Hanging
The Guardian- August 12th, 2010: Iran appears to be quietly changing the sentences of Iranians awaiting death by stoning to hanging after international outcry following the case of Sakineh Mohammadi Ashtiani, a 43-year-old mother of two.
Mariam Ghorbanzadeh, 25, who was six months' pregnant and miscarried after being beaten up in Tabriz prison this week, was initially sentenced to death by stoning for adultery but her sentence has been commuted to hanging in a rapid judicial review. The decision is thought to have been driven by the Iranian authorities' desire to avoid further international condemnation over the barbaric punishment.
Iran is believed to have frozen all executions until the end of the holy month of Ramadan. At least 12 Iranian women and three men are awaiting execution by stoning.
Full Story and Video HERE
Permalink
---
Iran Set to Execute 18-year-old on False Charge of Sodomy
August 9th, 2010: The Guardian- An 18-year-old Iranian is facing imminent execution on charges of homosexuality, even though he has no legal representation. Ebrahim Hamidi, who is not gay, was sentenced to death for lavat, or sodomy, on the basis of "judge's knowledge", a legal loophole that allows for subjective judicial rulings where there is no conclusive evidence.
Hamidi had been represented by human rights lawyer Mohammad Mostafaei, who has since been forced to flee Iran after bringing to international attention the case of another of his clients, Sakineh Mohammadi Ashtiani, a 43-year-old Iranian mother of two who has been sentenced to death by stoning for adultery. (See related story below)
Mostafaei, whose office in Tehran is now sealed off, is credited with saving at least 50 people from execution during his career, among them many juvenile offenders. A recent client, Ali Mahin-Torabi, 21, was released in July after Mostafaei's efforts commuted his death sentence. With Mostafaei exiled, activists are worried for Hamidi. "It's shocking that although Hamidi's accuser admitted in a recorded testimony that he had lied, he is still facing execution," Mostafaei said.
An online petition calling for the execution order to be rescinded was launched on 8 August.
Full story here:
Click here to SIGN THE PETITION
Permalink
---
Hacktivist Aids Iranian Peoples' Fight For Free Internet
In the wake of the stolen 2009 election in Iran, and the popular outrage that followed, the Iranian government cracked down on internet use by its people- blocking Western websites, and generally making it more difficult for Iranians to communicate (and organize) via the web.
Enter American computer programmer Austin Heap. Heap has created a proxy server program specifically designed to outwit the filters placed by the Iranian government to prevent its people communicating with the outside world. The software is called Haystack, and it is freeware, but finding it online can be tricky- as one might expect. We will post updates as they come to us.
Read more here:
Interview with Austin Heap here:
Heap talks to Radio Free Europe:
Haystack Official Site
Permalink
---
Iran's Opposition Leader Warns Rulers Could Topple
MSNBC- July 26th, 2010: TEHRAN, Iran- The head of Iran's opposition warned the country's hard-line political leaders Monday that they could suffer the same fate as the deposed Shah if they continue to consolidate their grip on power.
The powerful comparison was Mir Hossein Mousavi's first direct criticism of a ruling system that he was once firmly a part of and represented a bolder stance certain to provoke the authorities' anger.
Specifically, he accused hard-liners of moving toward an oppressive, one-party system, something that the pro-Western Shah Mohammad Reza Pahlavi did in his last years in power by outlawing all but his Rastakhiz party.
Full story here:
Permalink
---
Sakineh: Iran's Next Martyr?
In 2009, Neda became the first martyr of the protest movement in Iran. True, others had died before, but Neda had become the face and the symbol of the resistance. Now in 2010, the Iranian government is about to create another. Sakineh Mohammadi Ashtiani, a 43 year old mother of two, was convicted in 2006 of an "illicit relationship" with two men and sentenced to death by stoning. She is currently being held on death row in Tabriz Prison. The fact that she confessed under extreme duress is of little importance to the Iranian authorities.
The chief of Iran's judiciary in East Azarbiajan has claimed that "Western media propaganda" will not deter him from carrying out Sakineh's execution, but in the face of massive international pressure from the world's citizenry, her execution has been delayed several times as officials ostensibly discuss the most appropriate method.
To add your voice to the thousands calling for Sakineh's release, visit http://freesakineh.org/
To read more, click here.
Permalink
---
Defected Revolutionary Guard Officers Speak Out!
part 1
part 2
Permalink
---
HBO works to get film on dissident seen in Iran
By DAVID BAUDER (AP)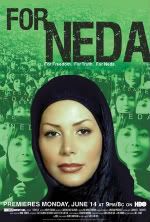 NEW YORK — HBO has aggressively sought to get its documentary on Iranian dissident Neda Agha Soltan seen by as many people as possible within Iran as the anniversary of her death during anti-government demonstrations approaches.

The film, "For Neda," was shown online and through Voice of America in Iran even before its debut on U.S. television this week, an unusual step for a cable network that traditionally guards exclusivity of its material for its paying customers.

The 27-year-old Iranian music student was shot in the heart last June 20 during a Tehran protest. Fellow demonstrators recorded images of her dying on their cell phones, and she quickly became a symbol for the crushed movement to protest Iran's questionable election results.

"I didn't want these brave people who came out on the streets and risked their lives so courageously to feel that the world had moved on and it's been forgotten," said Antony Thomas, who wrote and produced the documentary.

Read the rest of the AP Story here.....

Permalink
---



MOBILE BANNER
CAMPAIGN IN SUPPORT OF
IRANIAN FREEDOM AT RALLY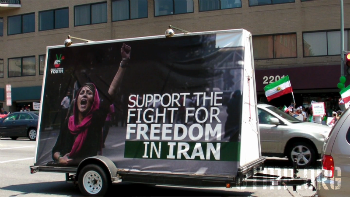 RALLY MARKS ONE YEAR MARK
OF FRAUDELENT ELECTIONS
A rally to mark the one year anniversary of the fraudelent elections in Iran was held in DC on June 12, 2010 in Washington DC. It started with a rally at the Interests Section of Iran, followed by a march past the White House, and then speeches at Freedom Plaza. The rally was sponsored by the Solidarity Committee to Protect the Iranian People's Will and Iranian-American Youth, and featured speakers such as Rudi Bakhtiar and Roxana Saberi. Our Mobile Banner Campaign was present the whole day, calling attention to the human rights abuses in Iran, such as detaining politcial prisoners and arresting journalists. There were calls for freedom in Iran to speak out, release of all political prisoners, and free and fair elections.

There was also a musical performance by Hatef, and a "I Am Neda" photography event.

Here are some photos of the event: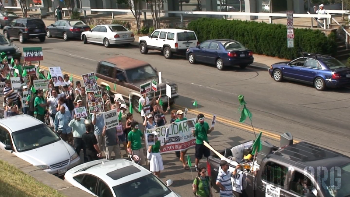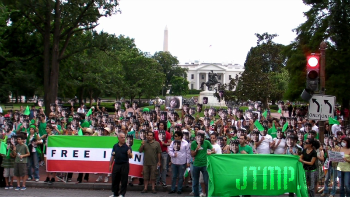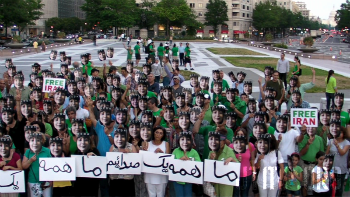 You can watch videos of the event below, and for more information go to:
http://www.iranianamericanyouth.org
Join Facebook and look for the Solidarity Committee, and JTMP!
VIDEOS
Permalink
---
June 12th: One Year Later, One Year Louder


June 12th will mark the one-year anniversary of the disputed Iranian Presidentail Election. Most in the Iranian-American community do not feel the election was run honestly, and rallies are planned around the country to show solidarity with the Iranian people still living under the oppression of the illegitimate government of Mahmoud Ahmadinejad and the Mullahs.
An event planned for washington DC is being co-sponsored by the Iranian-American Youth and the Solidarity Committeeto Protect the Iranian People's Will (SCPIPW). It will begin at 3:30PM outside the Iranian Interests Section in Washington DC, and end with live music at Freedom Plaza.
Click here for further details:
Permalink
---
Iranian authorities step up arrests of women for 'immodest' dress
Washington Post, June 2nd, 2010- Iranian authorities have begun police patrols of Tehran to arrest women for wearing clothing deemeed improper. This newest crackdown against modernism comes as government opponents are are calling for rallies on the anniversary of the disputed Iranian election last year.
Hard-liners are claiming that women's clothing is a 'security issue', and that 'loose morality' threatens the core of the Islamic Republic.
Permalink
---
Raw Story Reports Canne Award-Winning Director Imprisoned Since March.
May 18th, 2010- At the premiere of his new film at Cannes, Iran's Abbas Kiarostami slammed his government's crackdown on artists and called for the release of jailed director Jafar Panahi.
"When a film-maker, an artist is imprisoned it is art as a whole that is attacked," he told reporters. "Certified Coopy", the new movie by Kiarostami, who took the Palme d'Or top prize at Cannes in 1997 but whose films are censored in Iran, is his first work shot in Europe.
Jailed director Panahi, who won a Cannes award in 1995 for "The White Balloon" and scooped the Venice film festival's top gong in 2000 for "The Circle," had been invited to join the Cannes jury.
But the film-maker, a vocal backer of Iran's opposition movement, has been held in Tehran's notorious Evin prison since March 1.
He was detained, according to Iran's culture minister, for making an "anti-regime" film about the unrest that rocked the country last year after the disputed presidential election that returned Mahmoud Ahmadinejad to power.
Permalink
---
Reporters Without Borders supports fleeing Iranian journalists
One of the most dangerous jobs in the world today is Jouranalism. At least if you're an Iranian. Iranian journalists who do not write the government line on governmet-approved topics are subject to arrest, torture and even death. Many have fled the country. Others have stayed, but with a grim fatalism keep a small bag packed for the time when the secret police come for them.
Whe reporters flee the country, they are rarely able to take more than they can carry with them, and even more rarely do they have any means of supporting themselves once they are out. Many only speak Persian, and have no marketable skills besides writing. Reporters Without Borders is helping as many of the exiled Iranian journalists by petitioning governments to issue humanitarian visas, and by providing lodgings whenever possible.
Permalink
---
Boobquake and Brainquake: Why Not Both?
-By Melody Moezzi, April 26th, 2010

Last week, Iranian cleric Hojatoleslam Kazem Sedighi–Tehran's Friday Prayer leader–shook the patience of women worldwide by claiming that promiscuous and immodest women were responsible for earthquakes. Yes, you read that right.
I wish I could say that his absurd statement surprised me as much as it did countless others, but as an Iranian American woman who is all too familiar with the words and ways of misguided mullahs, I can't say that I have an ounce of surprise left in me for Sedighi's dim-witted declaration. I was, however, pleasantly surprised by two creative responses to his comments. One from an imaginative Indiana-based blogger Jen McCreight , who also calls herself Blag Hag, and another by an ingenious pair of professors–Golbarg Bashi , an Iranian studies professor at Rutgers University, and Negar Mottahedeh, a film, literature and women's studies professor at Duke University.
In a "modest proposal" posted on her blog and a corresponding Facebook page, McCreight states her intentions to "test [Sedighi's] claim scientifically" by encouraging women to dress as immodestly as they feel comfortable on Monday, April 26, so that she can conduct a statistical analysis to see if all that immodesty did indeed lead to a rise in tectonic activity. McCreight explains her motivation thus:
I'm a firm believer that when someone says something so stupid and hateful, serious discourse isn't going to accomplish anything–sometimes light-hearted mockery is worthwhile.
I wholeheartedly agree and I'm not alone. McCreight's proposal yielded an overwhelming response. Her virtual protest, which she dubbed Boobquake, drew over 150,000 attendees on Facebook, but it also garnered considerable controversy. After learning about Boobquake, Professors Bashi and Mottahedeh confessed to being "saddened" by it, and quickly came up with a proposal of their own, also in the form of a virtual protest held on Facebook on Monday. They called it Brainquake. Bashi and Mottahedeh's call:
Let's create a 'Brainquake' and show off our resumes, CVs, honors, prizes, accomplishments (photo evidence), because the Hojatoleslam and the Islamic Republic of Iran are afraid of women's abilities to push for change, to thrive despite gender apartheid. (Did you know that over 64 percent of students studying at universities in Iran are women?). Let's honor the accomplishments of Iranian women by showing off our abilities, our creativity, our ingenuity, and our smarts on our blogs, on Wikipedia, on Twitter, on Youtube, on Flickr and all over Facebook.
Admittedly, I prefer Brainquake to Boobquake, but I don't see any conflict between the two. There are as many ways to protest as there are protesters. Even if we find ourselves disagreeing on means, I think we agree on a common goal: to further shake the already-shaken credibility of the leaders of the so-called Islamic Republic of Iran.
So why not work together? As an unapologetically brainy, busty and well-accomplished Iranian American Muslim feminist writer, speaker, blogger, author, attorney and activist, I have no qualms admitting that I am happily attending both protests and eagerly awaiting the aftershocks.
Permalink
---